During the summer, my makeup is lighter and I enjoy getting ready quick and head out the door to enjoy the beautiful sunshine. Below are the items that I use for my 5 Minute Face.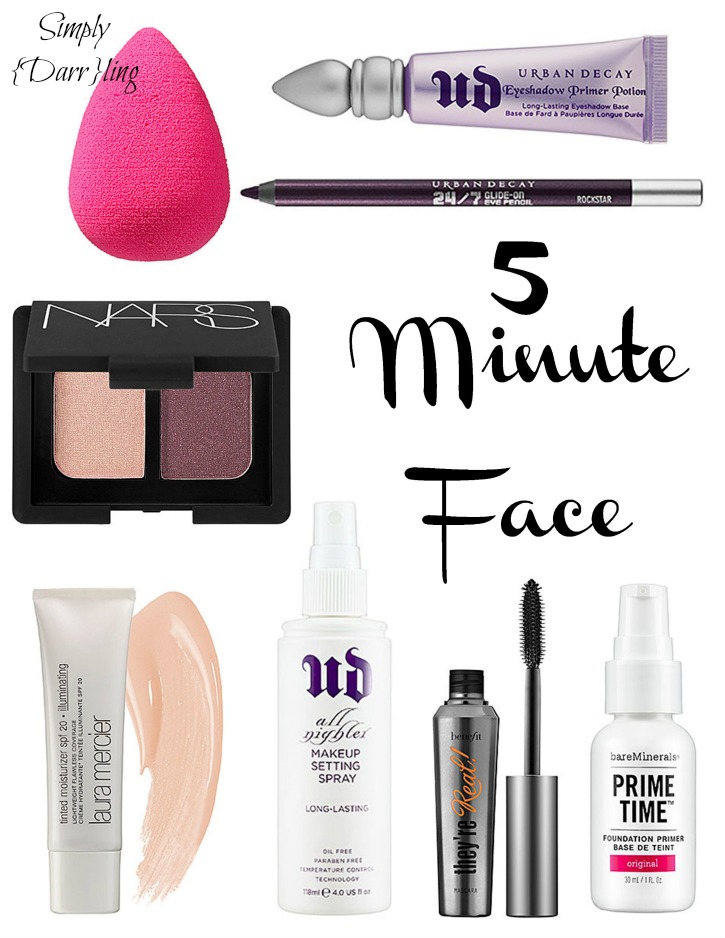 My 5 Minute Face
First, start with primer. I like the Prime Time primer because it cancels out any redness I have really well. The Beautyblender is perfect for adding it to my face because it is easy to put a little bit more in the red areas and lighter coverage everywhere else.
Tinted moisturizers are perfect for summer because they are lightweight and still provide a bit of coverage. I really like the Laura Mercier Illuminating tinted moisturizer; it contains 20 SPF which is nice for daily wear. Again, use the Beautyblender to apply.
My eyelids get greasy so I put some Urban Decay Primer Potion all over my lids. My favorite everyday eyeshadow is Kuala Lumpur by NARS. The rose gold color is perfect for all over and then put some of the boysenberry-gold in the corners and crease.
Add a quick swipe of Rockstar eyeliner then top it off with some They're Real mascara.
A spritz of Setting Spray and I'm set to walk out the door!
Do you have a 5 Minute Face? What are your favorite products for the summer?