One area of Christmas shopping that I struggle with each year is coming up with Stocking Stuffer ideas for Brad. I will find some random items at Target, but the really cool ones I forget that I should save them and end up giving them to him whenever I get home. Each year I try to find some unique items to include in his stocking so it is more than simply candy and golf tees. If you are shopping for stocking stuffers for the men in your life this year, make sure to check out these items below!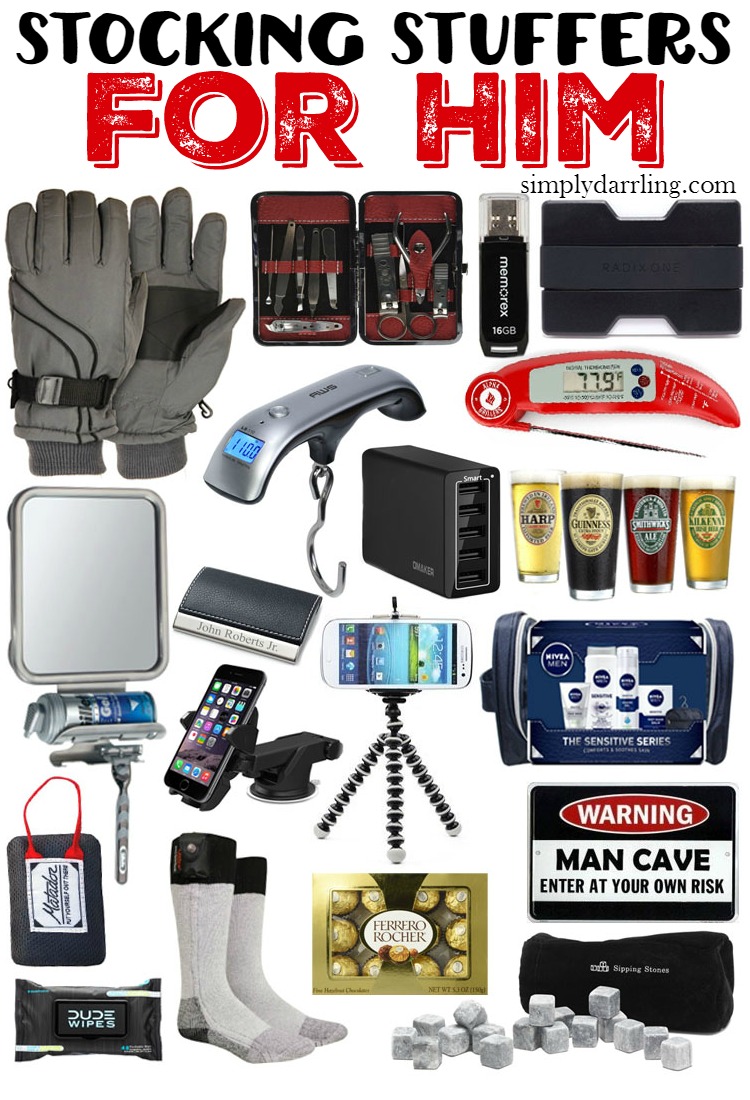 Stocking stuffers for men:
USB flash drive: USB Flash Drive

Whiskey stones: Sipping Stones Whisky Chilling Rocks

Grilling thermometer: Digital Grilling Thermometer

Fog free shower mirror: Fog Free Mirror and Razor Holder

Wall to USB charger: 5-Port Wall to USB Charger

Digital luggage scale: Digital Luggage Scale

Waterproof gloves: Men's Waterproof/Thinsulate Lined Gloves

Car mount iPhone holder: Car Mount iPhone Holder

Mens slim wallet: Mens Wallet

Mens manicure and pedicure kit: Mens Manicure and Pedicure Set

Portable phone tripod: Portable and adjustable Tripod Phone Stand

Personalized business card case: Personalized Business Card Case

Mens heated socks: Mens Heated Socks

Man cave door sign: Man Cave Door Sign

Set of 4 beer glasses: Set of 4 Beer Glasses

Mens skincare set: NIVEA Men 4 Piece Skincare Collection Gift Set

Mini pocket blanket: Mini Pocket Blanket

Dude Wipes: Dude Wipes

Ferrero Rocher Chocolate: Ferrero Rocher Chocolate
Those heated socks look absolutely amazing and would be perfect for anybody who spends significant time outside in the cold weather. They would be perfect for his stocking, and he could use them when he heads to Seahawks or Husky football games.