I do my best to travel as light as possible (which still includes a lot more than I need). I can't take my entire makeup drawer with me on the airplane so I try to bring just the necessities. This also includes as few tools as possible because every little inch counts when it comes to the suitcase.
Travel Makeup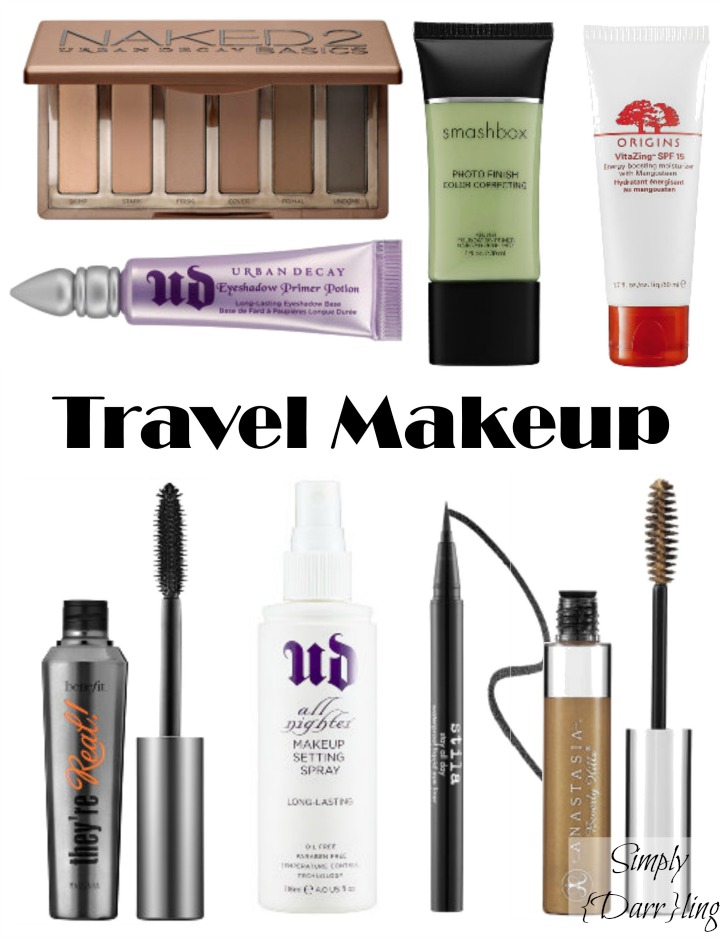 Primer: Smashbox Photo Finish, Foundation: Origins VitaZing, Eye Primer: Urban Decay Primer Potion, Eyeshadow: Naked 2 Basics, Mascara: Benefit They're Real, Liner: Stila Liquid Liner, Brows: Anastasia Brow Gel, Setting: Urban Decay Setting Spray
Both the primer and foundation can easily be applied with fingers or the beauty blender. The VitaZing is great because it is a very lightweight tinted moisturizer which blends into your skin to give a slight glow. The trips I take are casual and I like the lightweight look.
The Naked2 Basics fits into travel well because it has a few different options but isn't giant in the suitcase. I use the Naked2 palette all the time at home so this gives a paired down size with just the necessities.
One reason that I like liquid liners for vacation is because it doesn't require a pencil sharpener. The point is always sharp!  My eyebrows are so blonde they are almost invisible. This is great for when it has been a few weeks since waxing; however, they need a bit of help when the tinting is starting to wear off. This brow gel is great to make my brows stand out; and also have the advantage of not needing a pencil sharpener.
I really like the Urban Decay setting spray. It has a fresh feel going on and doesn't make my face feel oily.