It all started last week when a co-worker brought in some Neapolitan Popcorn. It was delicious and got me to thinking I should make some caramel popcorn. When I told my other co-worker this idea, she proclaimed that I should make Apple Butter Popcorn! I had never heard of it but figured why not try it out. This past weekend I tried it out and it's delicious! Have some extra Apple Butter laying around? This is a perfect recipe using Apple Butter to try out!
The first thing I did was Google "Apple Butter Popcorn" when no recipes came up I decided to make up my own. Off to Pinterest I went in search of Caramel Popcorn recipes – figuring I could edit them for my own use. Below is what I came up with.
Apple Butter Popcorn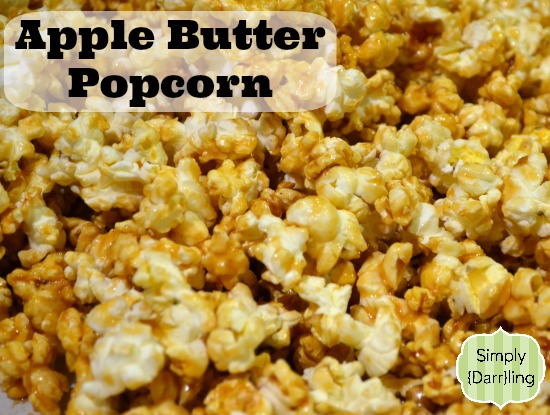 Apple Butter Popcorn
This Apple Butter Popcorn is a delicious treat to enjoy while watching a movie.
Ingredients
3 bags microwave popcorn, I used the Simply Salted variety
1 cup sugar
½ cup honey
½ cup light corn syrup
1 cup Apple Butter (if you are adventuresome, try making your own)
1 Tablespoon Vanilla Extract
Instructions
Pop the popcorn and place in large bowl
Remove un-popped popcorn kernels
In a sauce pan, mix together the sugar, honey and corn syrup over medium-high heat
Continue stirring while bringing to a boil
Let boil for 2 minutes (keep stirring)
Remove from heat and mix in the apple butter and vanilla extract
Pour into popped popcorn and stir together
Spread out on parchment paper lined cookie sheets to cool
This only took me about 15 minutes to make (not counting cooling time)!
The Apple Butter gives this a little bit of tang without being overly sweet. I would definitely make this again. The only issue with this is that it is a bit sticky so I might investigate ways to fix this before my next batch. Have you ever tried making a flavored popcorn? What sort of popcorn did you make?
I think my next experiment is going to be Cookie Butter Popcorn!