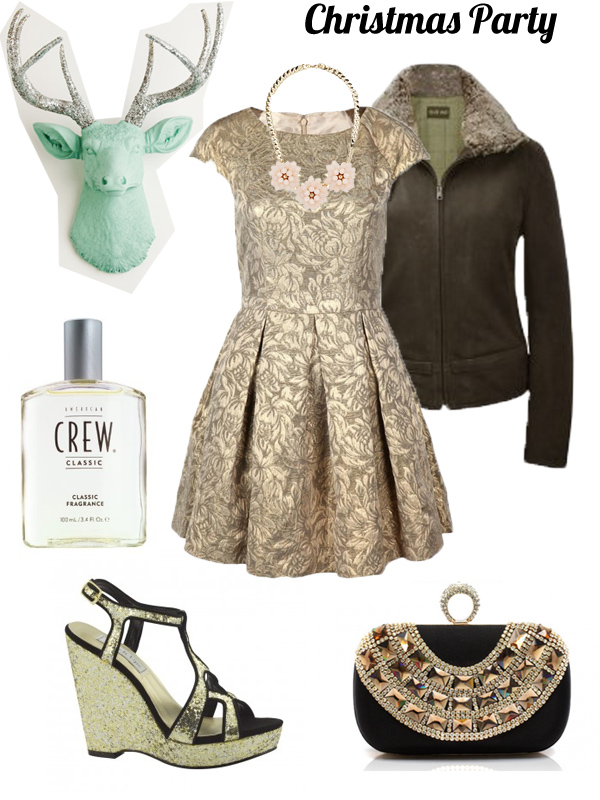 Deer Head from Etsy, Dress from French Connection, Necklace from Topshop,
Bomber Jacket from Ptarmigan, Fragrance from GroomU, Shoes from Elegant Steps
and Clutch Bag from Vintage Styler.
Today's Post is brought to you by Equestrian Supplies Shop
Christmas is the time of giving, and boy do we love giving! The feeling of watching someone unwrap a gift you have bought him or her is indescribable; especially if they love it. We can't guarantee your loved one will forgive you if you gift them with some socks or a comedy knitted Christmas jumper, but if you keep style and glamour in mind, you can be sure they'll love what you get them.
Above we rounded together some beautiful gifts for a glam theme, so sparkle is assured during the holidays.
Have you got a daughter who is obsessed with fashion? Buy her an elegant new Christmas party outfit – start with this gleaming gold dress from French connection, and include a cute accessory like this statement necklace from Topshop. Finally, wrap up warm with a cosy bomber jacket from Ptarmigan.
For the interior design obsessed friend, this mint and glitter deer head from White Faux Taxidermy on Etsy will make the perfect gift for a stylish home.
Treat the man in your life to a classy, gentlemanly fragrance like American Crew's classic scent (available at GroomU), it's the perfect blend of citrus tones and it's as much a treat for you as it is for him!
For your mother, your sister or your best friend, you can't go wrong with fashion gifts, especially when they are extra special and reminiscent of vintage glamour, like the Sasha Gold Glitter Wedges from Elegant Steps, or the art-deco style clutch bag from Vintage Styler!
When you're planning Christmas gifts, it isn't about what you spend, it's about how well you choose a present that displays how well you know the person you're giving it too, it shows you care and you listen to them. A thoughtful present takes into account what that person really loves!
What would you most love for Christmas this year?