I discovered glass etching last year around Christmas time and had all sorts of plans to make some awesome gifts.  My first attempt didn't turn out that great so I put the kit back in my craft room and didn't really think about it again.  About a month ago, I started thinking about it again when I saw these adorable Kate Spade glasses.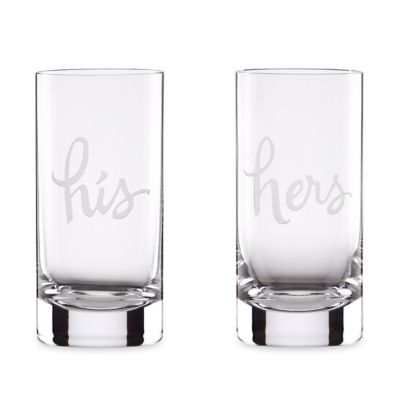 I wanted to try and make my own using my Silhouette Cameo. I heard that the dollar store actually had good glasses so I went there in search of a nice pair of highball glasses.  They didn't have exactly what I wanted, but there were a few different types of glasses that I bought to try out.
Below are the first two that I tried, I made "His" & "Hers" on a couple beer mugs and also did some "D" monogram ones on basic drinking glasses. The font I used for the beer mugs is "Channel".
They turned out pretty good, a few of the "D" ones probably should be re-done as there are some spots that didn't get etched as much as others.
A couple days later, I went back to the dollar store and found these awesome glasses.  My original plan was to give them as gifts with the Seahawks logo on one side and the person's name on the other; however, the Seahawks logo is a bit intricate for my skill level at this point.  I made UW ones instead and haven't put any names on them yet.  I might still do the names but I haven't decided completely.
The hardest part is making sure everything is level on the glass and across the set.  I will definitely be working on my technique to make some more of the monogram ones.