I've been having a bit of fun with my Silhouette recently. If you haven't figured out by now, I like to deck my house out for the season. I made this canvas for my living room; (the Merry and Bright sign along with our tree is in our family room).
Oh Come Let Us Adore Him Canvas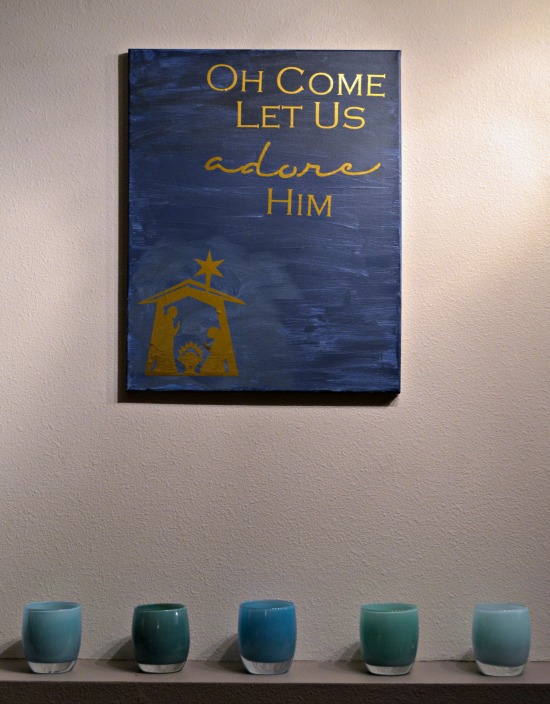 I used a 16×20 canvas but it could easily be adjusted based on the size of your wall. The paint colors came from the Martha Stewart Satin Bright Collection; I used Wild Blueberry as the main color and then mixed in a bit of white for around the manger and black for the sky.  For the words and nativity I used Permanent Gold Vinyl. The reason I use the permanent as opposed to re-positionable is to make sure it doesn't peel off over time.
The fonts I used were Copperplate Gothic Light and Eight Fifteen. I got the nativity shape from the Silhouette Online store but you could probably also find one for free online. If you don't have a Silhouette then you could probably paint it by hand but I don't trust my drawing skills enough to do that.
These Glassybaby candle holders are normally in the family room on our mantle; however they got put out of the way to make room for some Christmas decorations. When I hung this canvas on the wall I knew that the blues in the votives would be a perfect compliment so I pulled them out and put them on the ledge. I think they look great together.
Merry Christmas Everybody! Oh Come Let Us Adore Him!