Happy Tuesday and welcome to another A DIY Christmas Gift idea. Today's gift can be perfect for anybody. I remember when Starbucks first came out with their ice tumblers. I loved these glasses as they were great for not just coffee, but water or juice as well. Now with the ability to buy them blank it is a great item to personalize and gift.
Personalized Cold Beverage Cup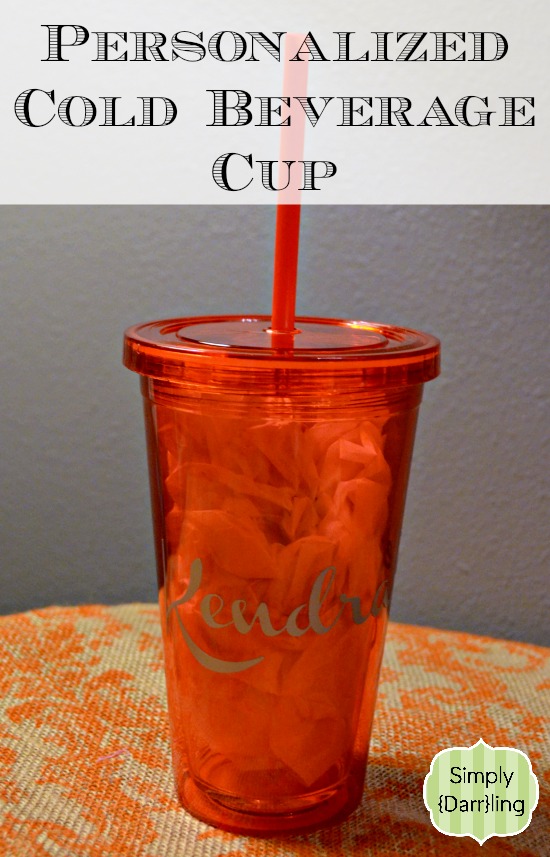 I use my Silhouette Cameo for this project, if you don't have one of these electrical die cuts then another option would be to trace and free-cut with an X-Acto knife onto the vinyl. I purchase my vinyl from Amazon, for this project you want to make sure and get permanent adhesive as opposed to re-positionable.
In my Silhouette software, I type out the name or saying in the chosen font. The size I find works best is one that is roughly 4-5 inches long. The height will be dependent on the length of the name or saying. Make sure the letters aren't too small or it will be difficult to weed and transfer.
In addition to a name, another way to personalize is with a symbol that represents their hobby or personality. I made one of these a couple months ago for a swap partner who loved to sew. I wanted to do more than just her name so in a differnt color vinyl I first cut out a sewing machine then put the name on top. Make sure that the item is recognizeable by its silhouette. Without internal markings, a basketball and soccerball could look quite similar.
The Silhouette online store has many items available for purchase but there are also many sites that have free images for personal use. Check out my Silhouette Pinterest Board for lots of Free Vector Images.
Attaching the vinyl to the cup is simple. Once the image has been weeded, transfer onto contact paper and then onto the cup. I would recommend hand washing once applied.
There are many different places to find these cups. The cheapest place I have found is the Dollar Store. They are considered a seasonal item so they might be a bit difficult to find currently in store. I bought some on Dollar Tree's website; however, with that method I didn't get to select my colors and ended up with a variety pack of Orange, Green, Clear and Red. Amazon also has some for sale; they are a bit more than the Dollar Store but not unreasonable.
Who wouldn't love a personalized cup? Can you think of somebody on your list who could use this?