Do you have some pre-teens on your shopping list this year? This can definitely be a hard age to shop for as they are aging out of toys but still want something fun to play with Christmas morning. I've compiled a bunch of items for some fun stocking stuffers for this age – perfect for both boys and girls!
There are some items on here that I would even like to show up in my stocking this year! :)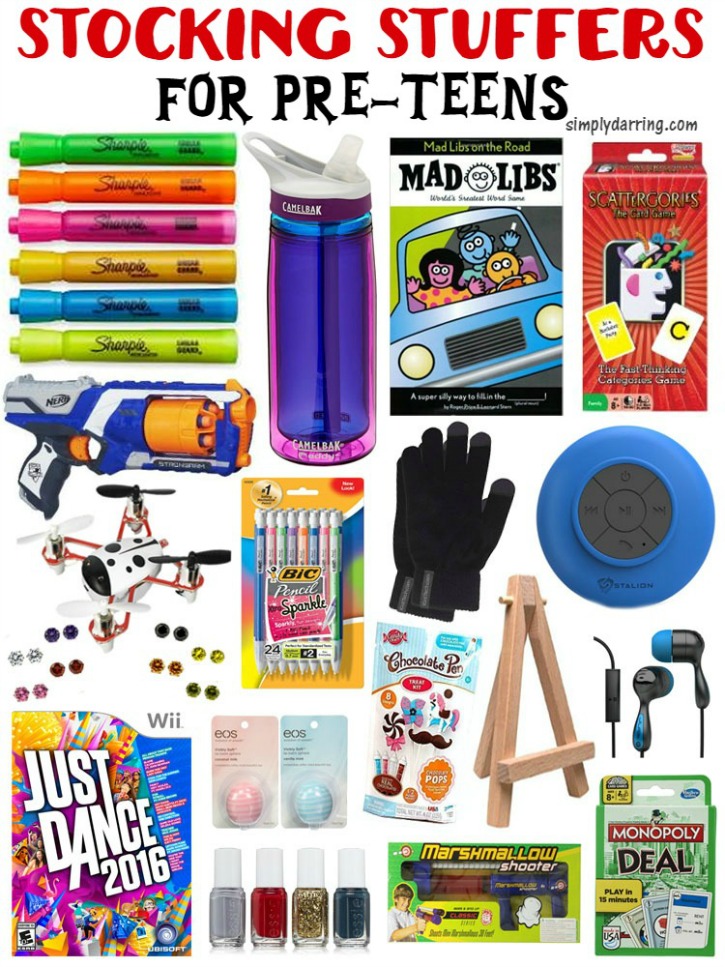 Sharpies: Sharpies
Nail polish: Nail Polish Kit
Stud earrings: Cubic Zirconia Stud Earrings
EOS lip balms: EOS Lip Balm Duo
Mad libs: Mad Libs
CamelBak: CamelBak
Chocolate pen treat set: Candy Craft Chocolate Pen Treat Kit
Nerf blaster: Nerf N-Strike Blaster
Mechanical pencils: BIC Mechanical Pencils
Mini Easel: Mini Easel
Shower Speaker: Shower Speaker
Scattergories: Scattergories
Monopoly: Monopoly Deal Card Game
Just Dance Wii: Just Dance 2016 for Wii
Remote control mini helicopter: Remote Control Mini Quadcopter
Marshmallow shooter: Marshmallow Shooter
Ear buds: Ear Buds with Mic
Texting Gloves: Texting Gloves
I hope this list helps you shop for those picky pre-teens in your life!