This post is in collaboration with Astoria Warrenton Area Chamber of Commerce. We were also provided with a Mazda 6 to facilitate this post. All opinions are my own. 
Last weekend, Sarah and I headed down to the Oregon coast for a fun girls weekend away. We had such an awesome time, there were so many different things to do in Astoria and other nearby towns that a trip to the Oregon coast would be great for a weekend away, or a longer family vacation.
A Girls Weekend In Astoria, Oregon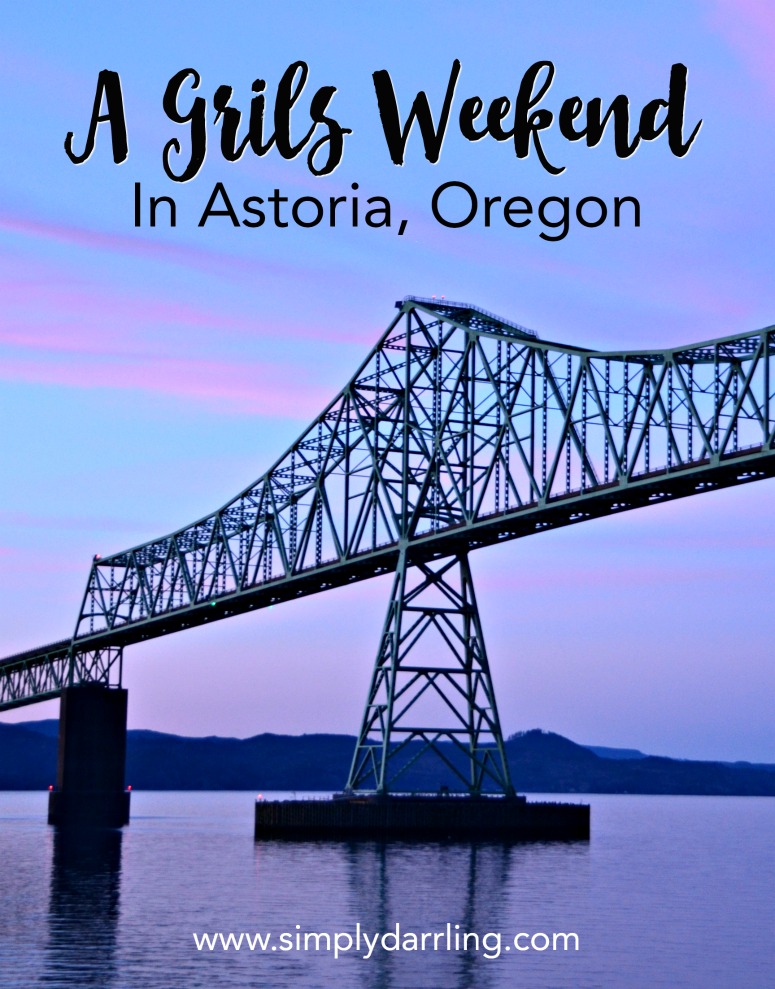 I picked up Sarah from the Portland airport Friday afternoon and we headed straight to the coast. We had originally planned on spending some time exploring Portland before our weekend away; however, plans had to change at the last minute so she booked a flight for Friday afternoon. We arrived at the hotel in the early evening, just in time for their daily happy hour!
The Cannery Pier Hotel & Spa is absolutely gorgeous! It sits on a pier out in the Columbia river, and every room has a waterfront view and balcony. The bathroom has a giant soaking tub, and when the shutters are open, you can easily sit in the tub and look out over the water.
Another fun aspect of the Cannery Pier Hotel & Spa is the chauffeured classic car service you can use to get around town. It definitely seemed like a popular activity, we saw the car taking lots of people to their dinner reservations in the evening.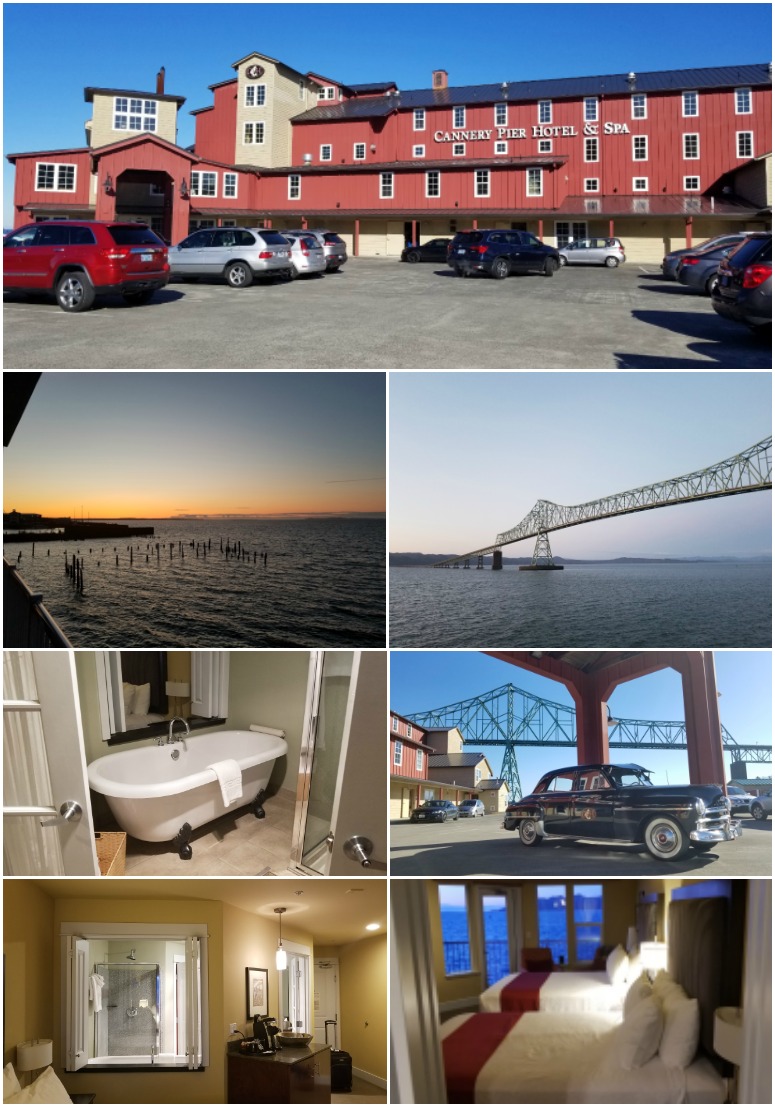 Our Saturday started bright and early, it is a good thing that Sarah and I have similar travel expectations of seeing lots throughout the day. After a wonderful breakfast at the hotel, we headed out to the Astoria Column to check out the views. There are gliders that can be purchased in the gift shop to throw off the top of the column and see how far they can fly before they hit the ground. Some of the gliders reached all the way across the parking lot!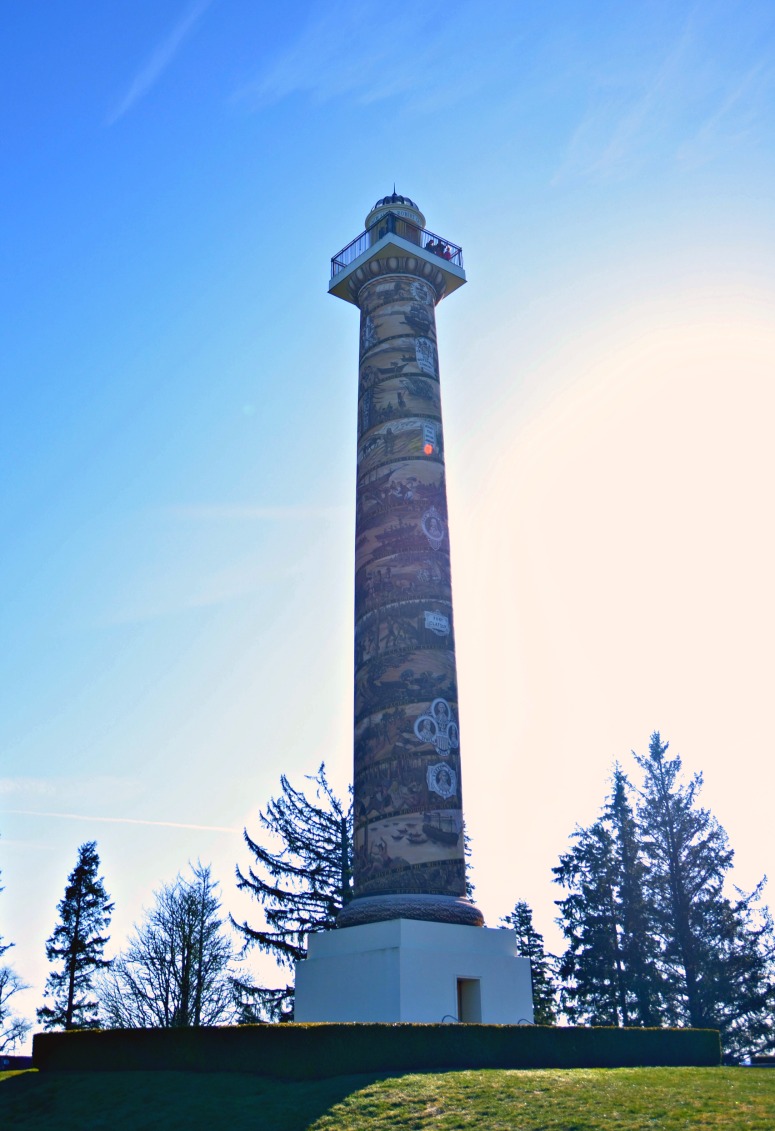 After the column, Sarah and I went in search of wildlife. We headed down to the waterfront to look for Sea Lions; and we definitely found quite a few. It was so entertaining watching these animals interact with each other. There was plenty of open deck space in the back, or some areas of the dock; but they all wanted to be in the same area and would jump out of the water and climb on top of each other to force themselves into their desired area.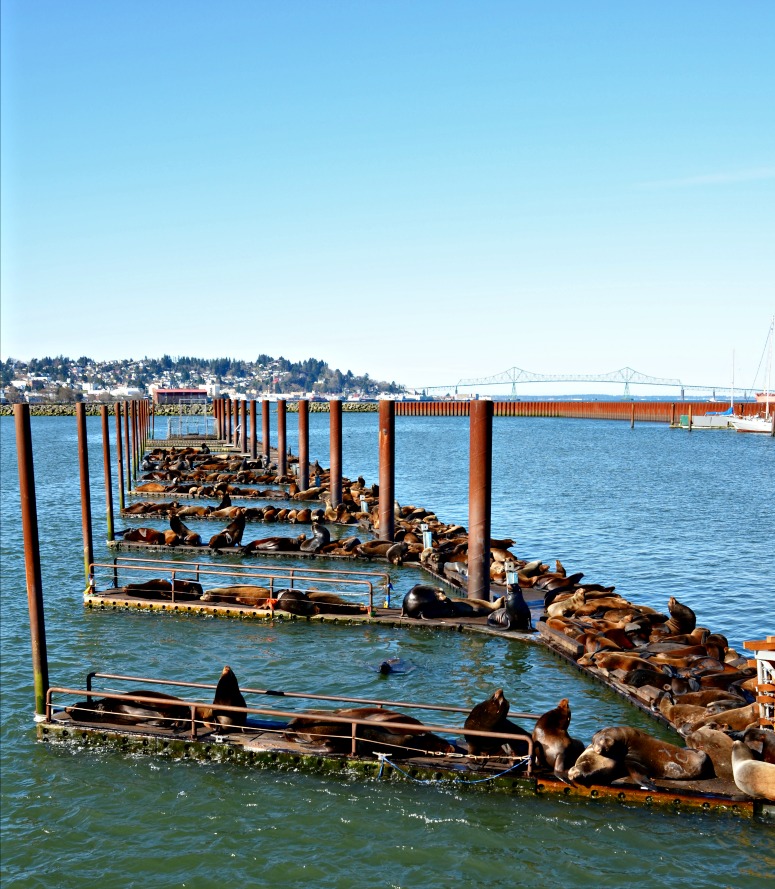 Just outside Astoria is the "Graveyard of the Pacific", which is where the Columbia River meets the Pacific Ocean. Over 100 boats have been destroyed in this area, and is an area of very strong and disruptive currents. The Columbia River Maritime Museum was filled with awesome exhibits and so many interesting facts. There were also some great interactive exhibits which would be perfect for kids.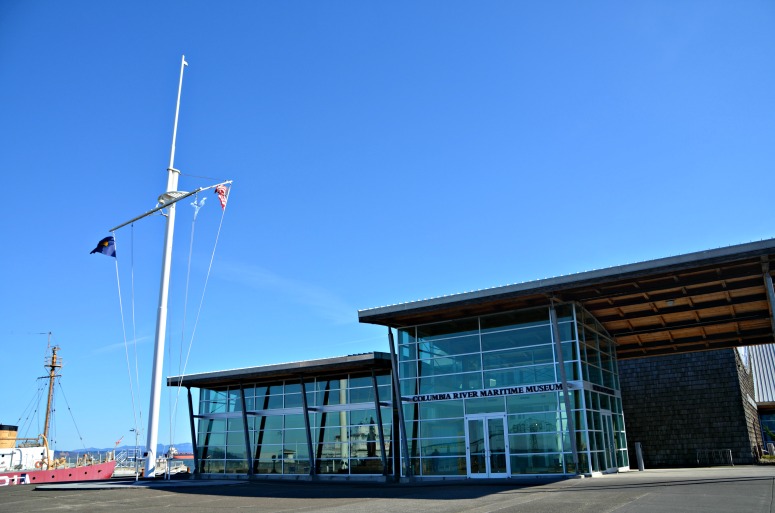 A ticket to the museum also came with a tour of the Columbia which is docked outside and served as a floating lighthouse from 1951 to 1979.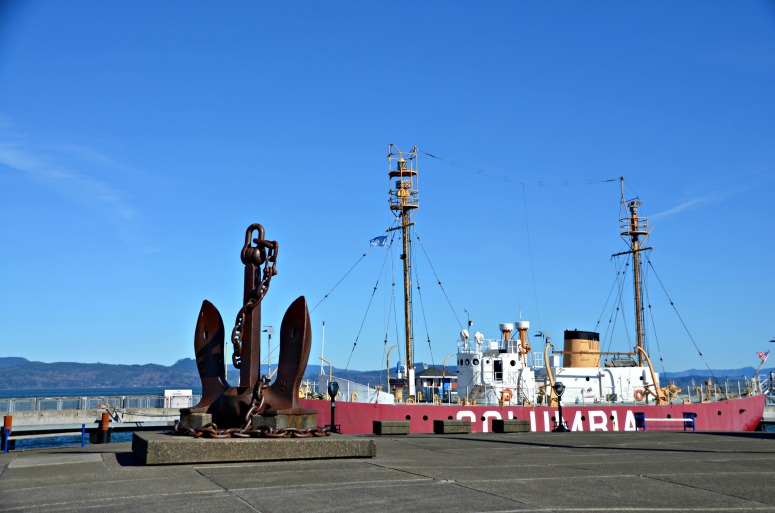 After the museum, we still had a few hours before our afternoon plans so we headed over to Warrenton and Fort Stevens State Park. This park is huge! It sits on the very northwest tip of Oregon and includes beaches on both the Pacific Ocean and Columbia River. In true "graveyard of the Pacific" fashion, there is even a shipwreck on one of the beaches.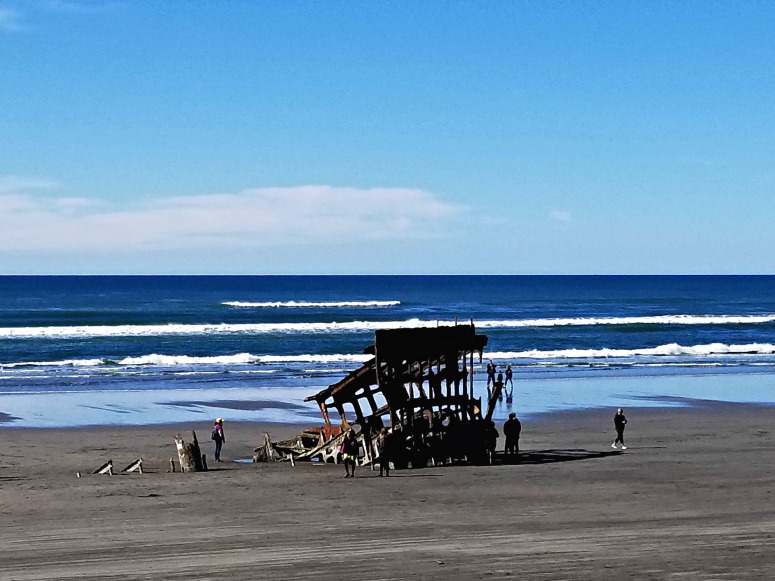 After a morning of exploring, our afternoon was spent doing a walking food tour with Eat Astoria. In this 3 hour tour, we visited 6 different locations ranging from savory to sweet. The tour started at WineKraft Wine Bar where we met Tonia and her husband and headed off on our way! Our first stop was the Smokehouse Butcher Block where we had some delicious sausage, pork, and smoked cheeses.
One of the great things about this food tour was that it mixed in some delicious drink locations along with the food. After the smokehouse, we walked over to the Cellar on 10th which for a bit of wine tasting. It was such a cool location, as it is underground! Astoria features a whole underground tunnel system from when the town was built on piers over the river.
Our next stop was Fulio's for 3 absolutely amazing courses. Seriously, we were spoiled with the amazing dishes that we had, and each one was specially crafted around Sarah's allergies.
I've been to many wine tasting rooms over the past few years, but now I can add a Vodka distillery to my list – Pilot House Distilling. They feature so many unique flavors of vodka, I picked up a bottle of their Lemon Ginger Infused vodka and I can't wait to try it out and use it in some delicious summer cocktails.
Our final stop of the day was Frite & Scoop which features small batch ice cream and Belgian Frites. After sampling pretty much all the options, I couldn't pick just one so I did a mixed scoop of Hokey Pokey (Sweet cream custard with housemade honeycomb toffee) and Chef's Choice (malted sweet cream custard with blackberry curd & caramel sauce). I'm seriously still dreaming about this ice cream it was so good.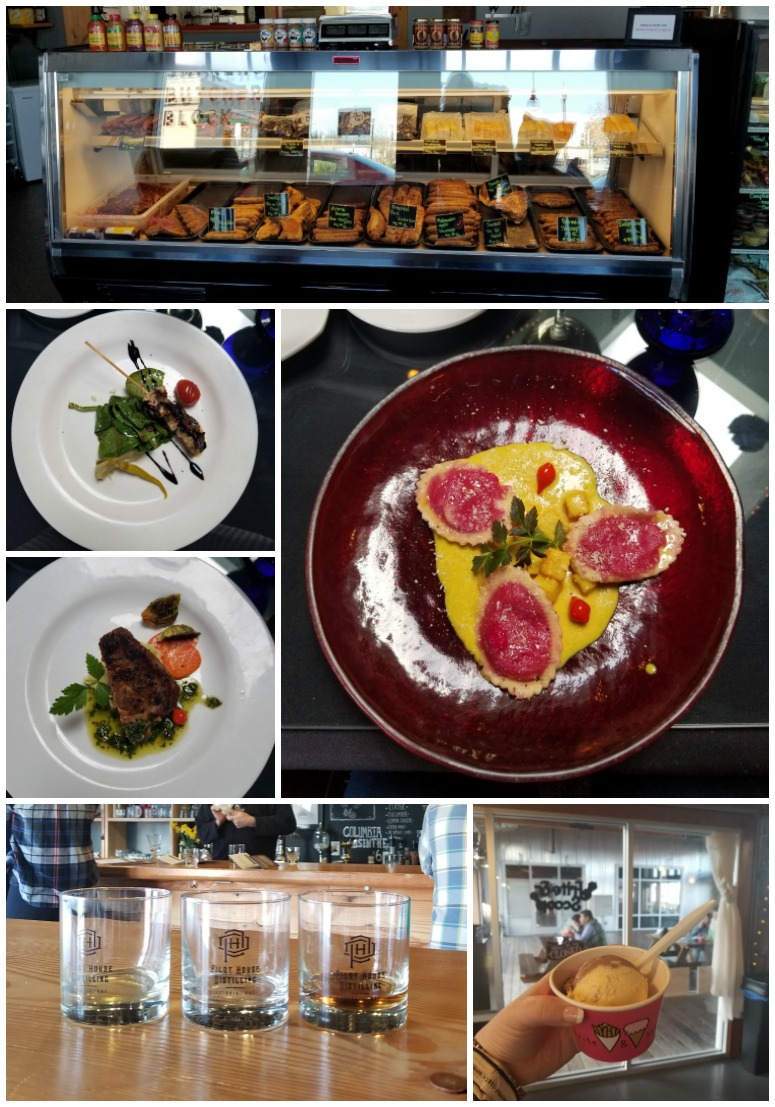 Sunday morning, Sarah and I woke up (not as bright and early – thanks Daylight Savings) and checked out a few final things before heading back home. After watching a short movie about George Flavel at our hotel, we decided to check out the Flavel House which is the 11600 square foot house that he built for his retirement before we left. .
We wanted to pick up some of the delicious sausage and jerky from the Smokehouse Butcher Block on our food tour so we stopped there on our way out of town.
For our trip, we had a Mazda6 which was super fun to drive through the winding roads of Highway 26. It was the perfect size for our little girls trip getaway and we definitely loved the heated seats for the chilly mornings.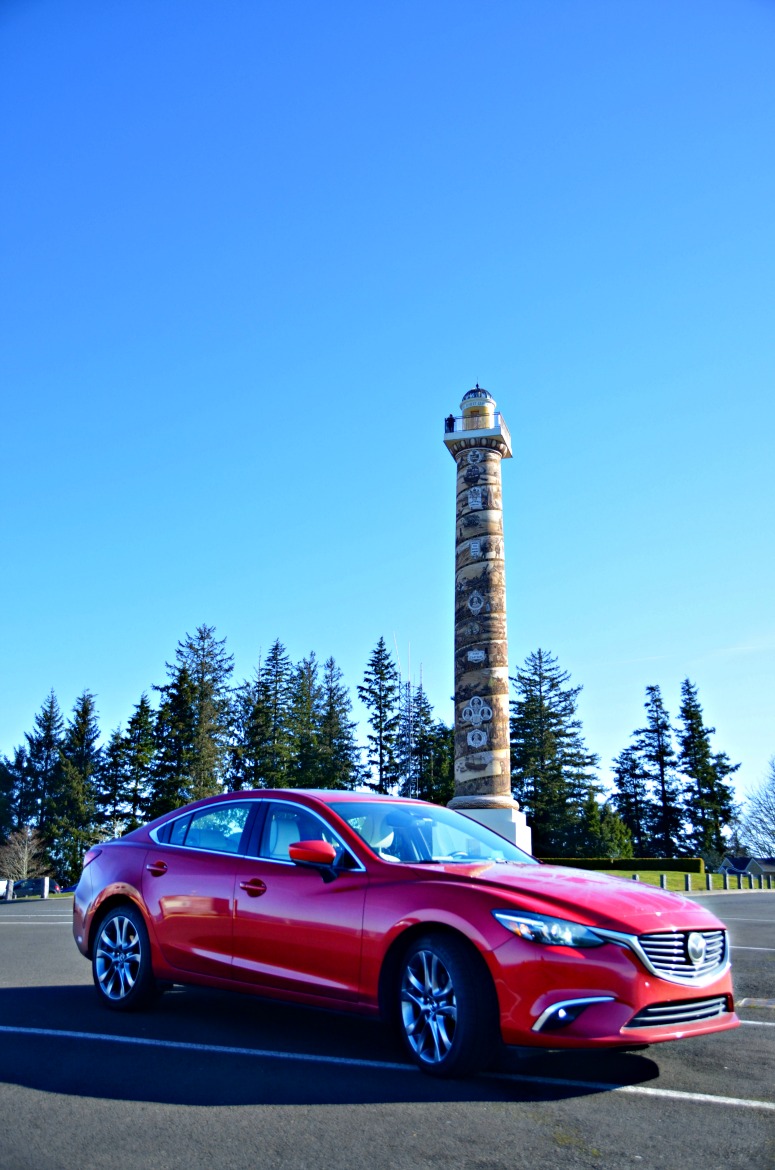 Looking at the trunk as we left Astoria, you would have thought that we traveled longer than just 2 nights. Although part of this is because I had a few bags of items to give Sarah and this was the perfect time to transfer them to her. I'm pretty sure that after having my 2 day trip to the East Coast turn into an 8 day trip, I'll be over packing for the next few trips.
One of my favorite things about the Mazda6 is the heads-up display. I could quickly glance to the bottom of the windshield to see the my current speed (and compare it to the speed limit) and also other important information such as GPS directions, as well as lane and blind spot monitoring.
The Mazda dashboard also features a knob which controls the screen, being on the shorter side, I really appreciate this because it is a more natural hand position for me than reaching up to the screen.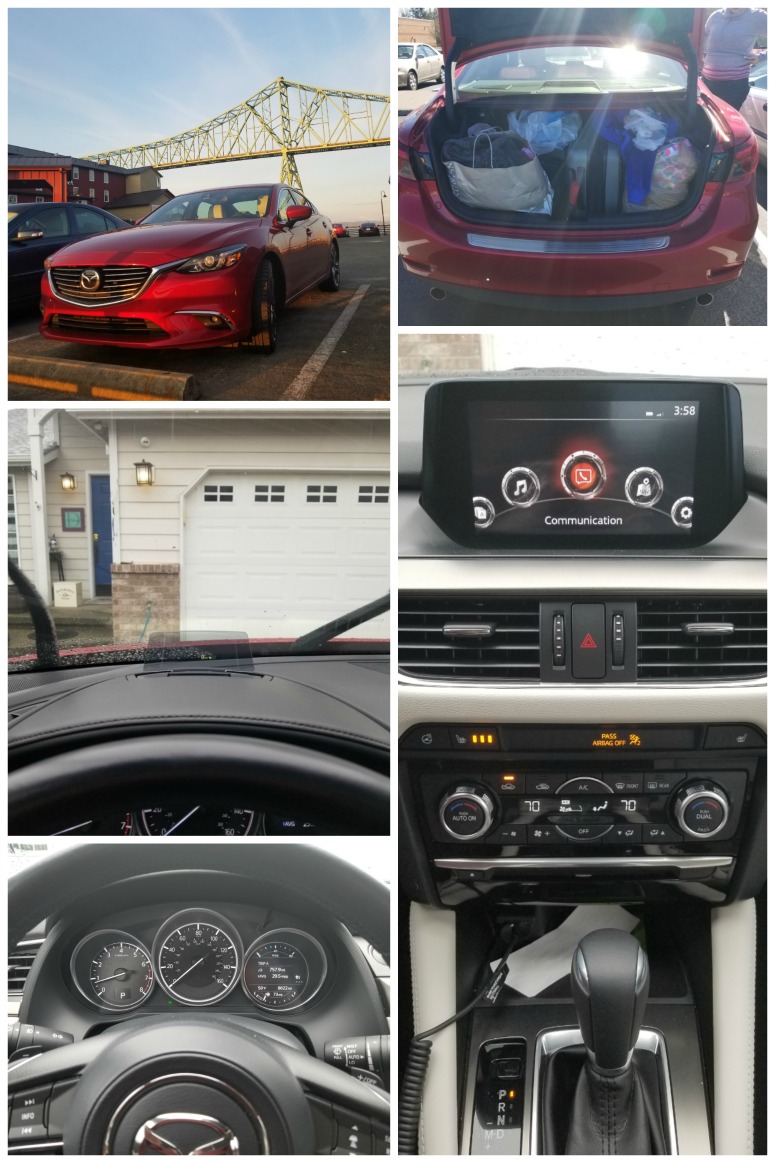 If you are looking for a great location to head for a long weekend with your girlfriends, or a full on family vacation, make sure to put the Oregon coast on your list, and especially Astoria!