In the past two months, I have visited both Disneyland AND Walt Disney World. Both of these trips were so much fun and I wanted to share some of the differences between the parks with all of you in case you are debating about which park to visit.
Comparing Disneyland and Walt Disney World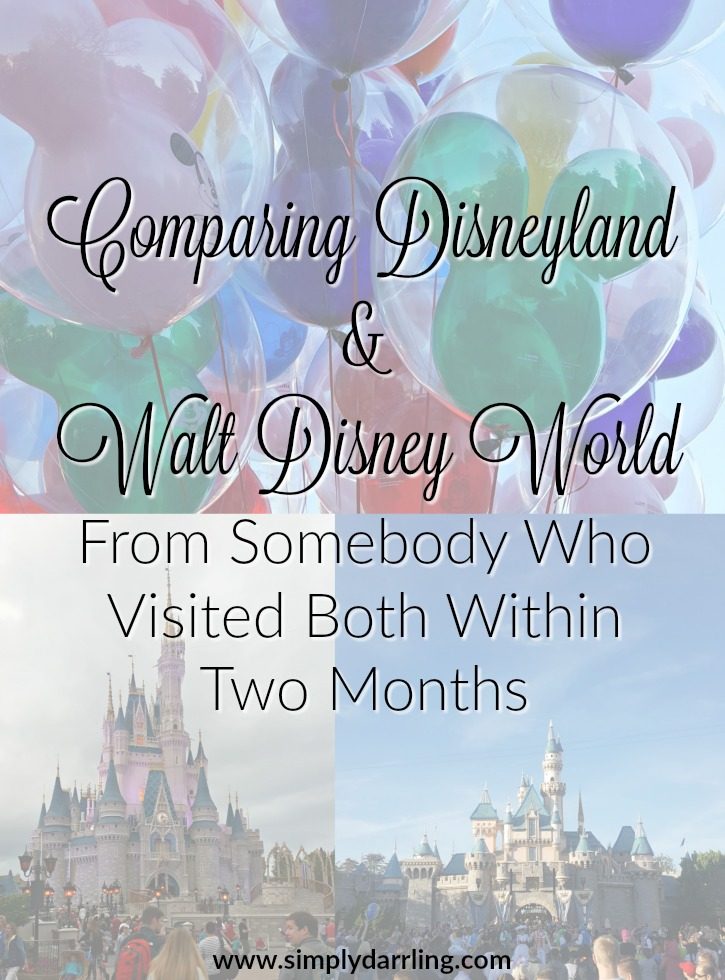 The main difference (other than West Coast vs East Coast) between Disneyland and Walt Disney World is the number of parks at each location. Disneyland features two – Disneyland and California Adventure; whereas Walt Disney World has four main parks – Magic Kingdom, Epcot, Animal Kingdom, and Hollywood Studios, as well as two water parks – Blizzard Beach, and Typhoon Lagoon.
WiFi Availability – Walt Disney World is covered in WiFi, it was pretty reliable and super easy to use. My data usage significantly increased while my mom and I were at Disneyland because I was constantly using the Disneyland app to check out ride wait times and looking for restaurant and bathroom locations. [Update May 2018: Disneyland now has Wi-Fi, it isn't super fast, but it is usable]
Fast Passes – At Walt Disney World, fast passes are done through the app and can be scheduled prior to arriving. Guests who stay on property can book these fast passes 60 days in advance of their visit, and everybody else can book them 30 days in advance. All Disneyland fast passes are paper tickets that you collect in the park the same day. I see pros and cons for both of these aspects. It is nice to be able to schedule the fast passes through the app, and pick a time later in the day if you want; however, the paper tickets give everybody a chance at getting passes to the big rides. It would be nice if the Disneyland app told you what time the fastpasses were being dispersed for because sometimes I was wanting to wait to get one for the evening rather than early afternoon if I was planning on being in the other park part of the day. [Update May 2018: The new MaxPass system at Disneyland is pretty awesome. Check out my post about this system.]

Park Hopping – It is a lot easier to park hop at Disneyland than Walt Disney World. My mom and I hopped back and forth between between Disneyland and California Adventure because it was easy to just walk over. The parks at Walt Disney World are a lot further apart so they require either driving to a new park or taking Disney transportation to the other park. 

Nearby Hotels – While Walt Disney World has lots of "on-property" hotels, Disneyland has 3 on-site hotels. and the park is surrounded by many "good neighbor" hotels which aren't official Disney hotels, but still associated with the parks (Good Neighbor hotels are allowed to sell Disney park tickets at their hotel). My mom and I stayed at one of these Good Neighbor hotels and I think we might have had a closer walk to the park than the official hotels.
Photo Pass – I purchased the PhotoPass+/Memory Maker for both both Disneyland and Walt Disney World (they are essentially the same thing, but have different names at each of the parks. The pass is significantly cheaper at Disneyland; however, I did notice that there were less of the photographers around than at Walt Disney World. This is especially true with the Characters. At Walt Disney World, all the characters have PhotoPass photographers and are in set locations. I noticed a lot more Characters out in the open at Disneyland and only a handful of them had PhotoPass photographers. 

RFID vs Paper Cards – Disneyland still uses paper tickets with bar-codes for entry and fast passes. I had pre-purchased our 4 day park hopper ticket before we flew down to California and it popped out a paper ticket when we went through the turnstiles. The tickets at Walt Disney World use RFID technology so they are simply tapped onto readers to enter the park or use a fast pass at the ride. Walt Disney World also offers the Magic Bands which are essentially the tickets on bracelet form (if you are at the park for more than one day I highly recommend getting the bands, they are so much more convenient). Since the tickets/bracelets use RFID technology, it is a lot easier to add ride photos to your photopass account, some rides go automatically, and those which don't, you simply tap your ticket or band to a reader and the photo will be added to your account. 

Rides – While some of the rides carry over from one park to the next, there are some rides which are only at one park or the other. Disneyland has Indiana Jones (at Walt Disney World there is an Indiana Jones show instead), and the Matterhorn; Walt Disney World has Expedition Everest and Seven Dwarfs Mine Train. Disneyland also offers Toon Town where Walt Disney World has a Circus area. 
These are a few of the big differences that I noticed in the past couple months since visiting both Disneyland and Walt Disney World. Which Disney parks have you visited?