This post is sponsored by The Home Depot.
Ever since Brad and I moved into our house (over 7 years ago), updating the vinyl flooring in our master bathroom has been on the list of dream projects. The previous owners had left a bit of water damage by the shower on these floors and they were no longer looking clean or up to date. Over a weekend, we were able to completely transform the floors in our bathroom and I can't wait to show you all the amazingness!
We started by peeling off all the existing molding and flooring. We also took out the toilet so that the new tile could lay under it. Had we not replaced this toilet just a few months ago, I would have updated the toilet along with our floors. This is a good time to inspect the bolts and water lines that connect to the toilet for any sort of wear and replace them with updated parts.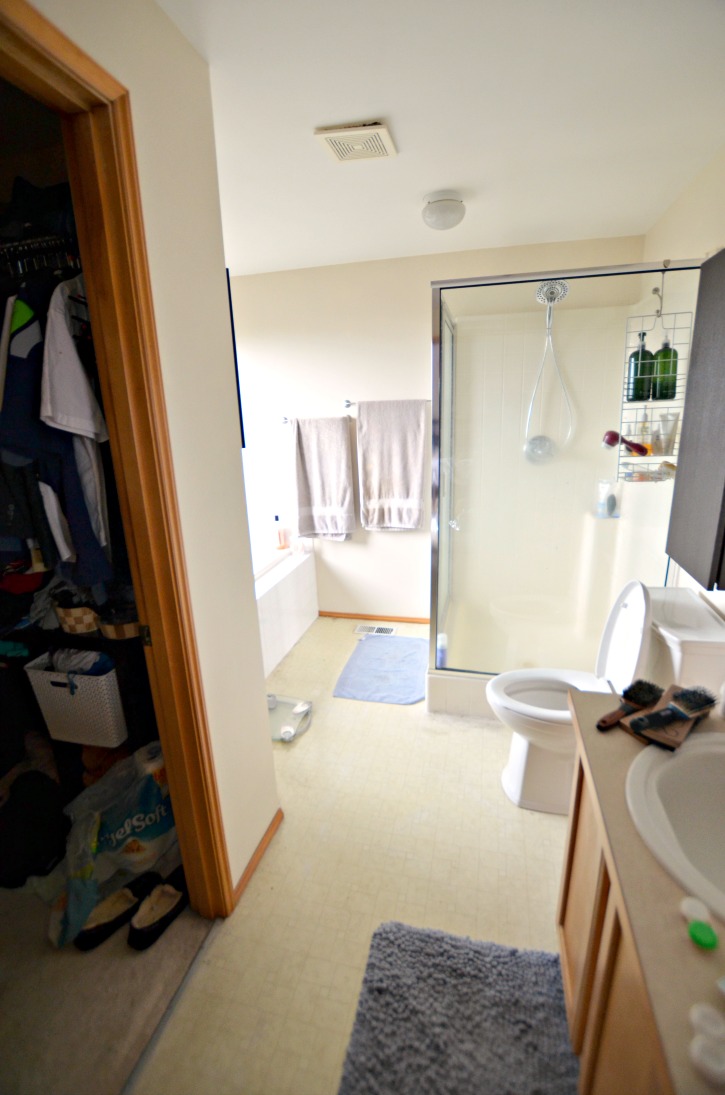 These adhesive vinyl tiles can be installed over existing flooring, so if your current floors are still in good condition you don't need to do any sort of demolition other than removing the molding and toilet for installation.
To see the full tutorial on installing these adhesive vinyl tiles, head over to The Home Depot Blog and read my step-by-step tutorial.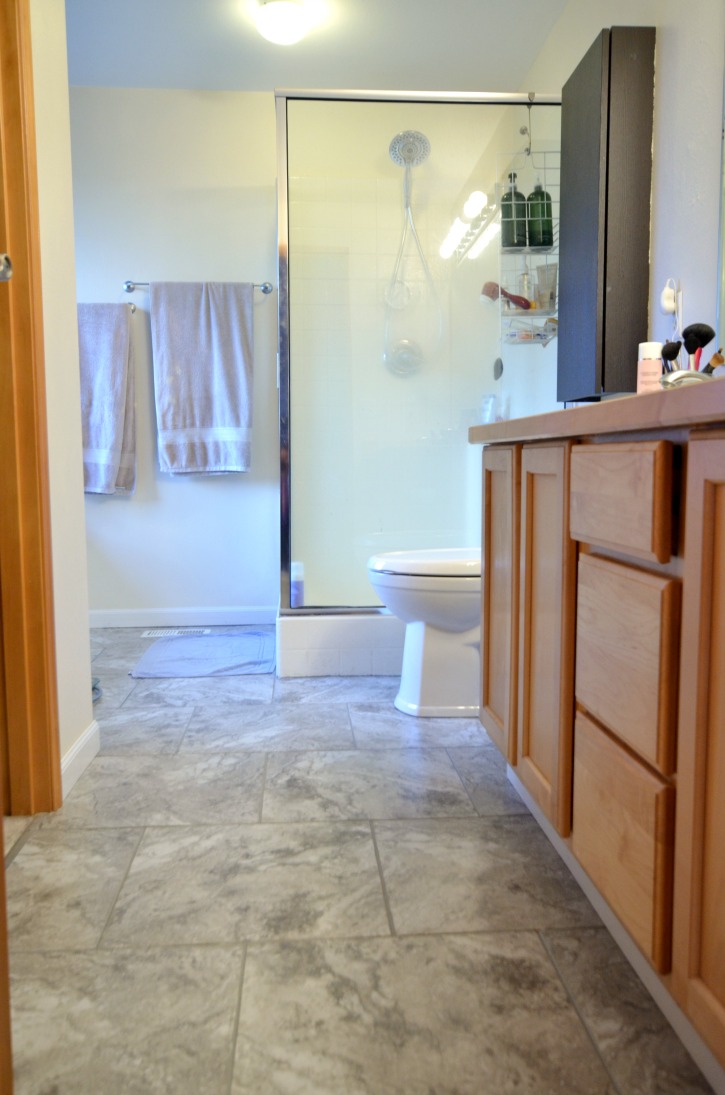 I looked at a few different options for our new floors. Vinyl has come a long way in the past few years and really can look like real tile. I wanted to make sure that the vinyl tiles that I picked were groutable to add even more to the real vinyl look. I opted for a grey and white travertine tile which is absolutely gorgeous. The tiles are 18 inches square which worked well for our bathroom size and shape. We actually lucked out, two tiles fit perfectly between the tub and shower which made for a nice clean (and easy) layout.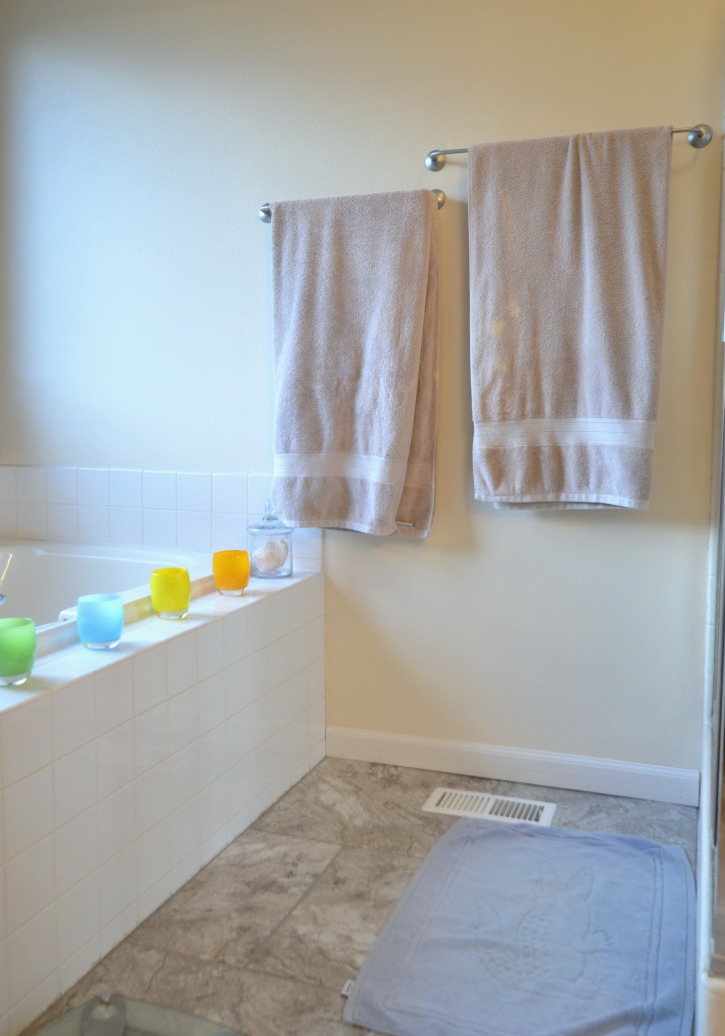 In addition to changing out the floors, Brad and I also upgraded to white molding. The white molding really makes the grey and white in the tiles pop. We updated our doors a few years ago and I still love the natural finish on them so we opted to keep the doors and their casing with the natural wood color and simply butt the white molding up to them. I was a little worried how to mix of natural wood color and the white would mix, but it blends well together and definitely looks as though it was done intentionally.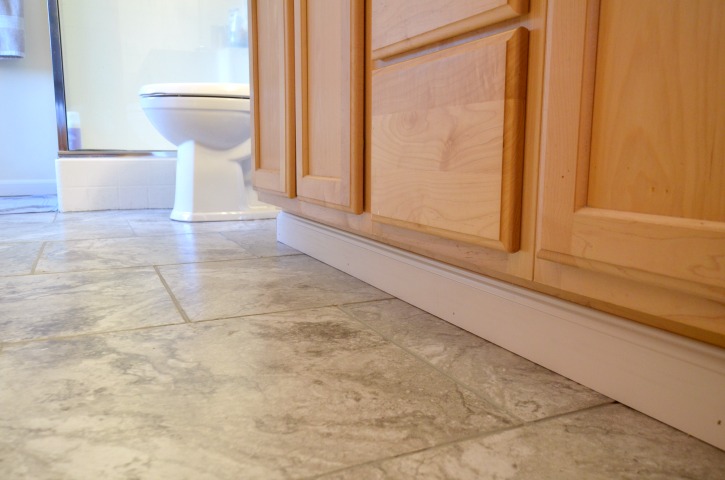 I really tried to keep the "feature creep" under control with this project although at some time I would love to change out the medicine cabinet, paint the vanity, and replace the countertop. The tiles create such a dramatic change that it really can make the room look completely different and upgraded.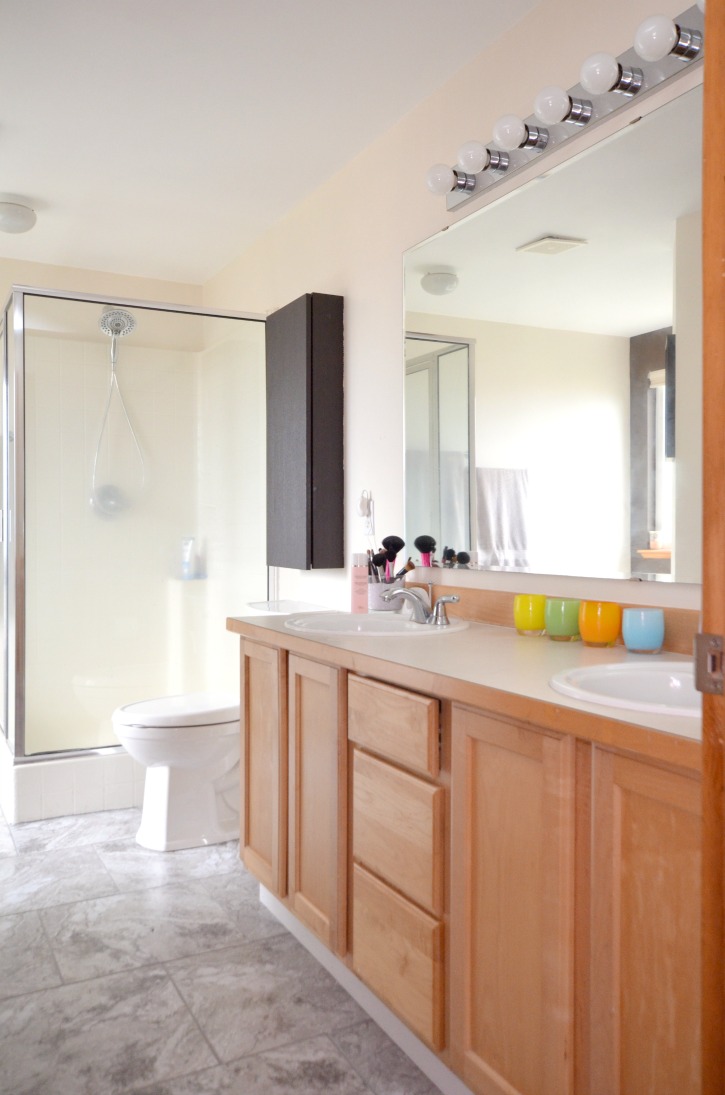 I absolutely love how our bathroom turned out and it was a great project for the weekend. Our bathroom has a nice updated feel to it now I definitely want to spend more time in there. I'm thinking a bit of time in the soaking tub might be in order to enjoy my new bathroom even more.
I acknowledge that The Home Depot is partnering with me to participate in this Vinyl Tile Program (the "Program"). As a part of the Program, I am receiving compensation in the form of products and services, for the purpose of promoting The Home Depot. All expressed opinions and experiences are my own words. My post complies with the Word Of Mouth Marketing Association (WOMMA) Ethics Code and applicable Federal Trade Commission guidelines.