I heart tropical vacations. Sitting on a warm beach with a drink in my hand and the sun on my face is absolutely amazing. I love the warm water that is so inviting from the second you step foot in it and the bright fish that swim close to shore.
What To Pack For A Tropical Vacation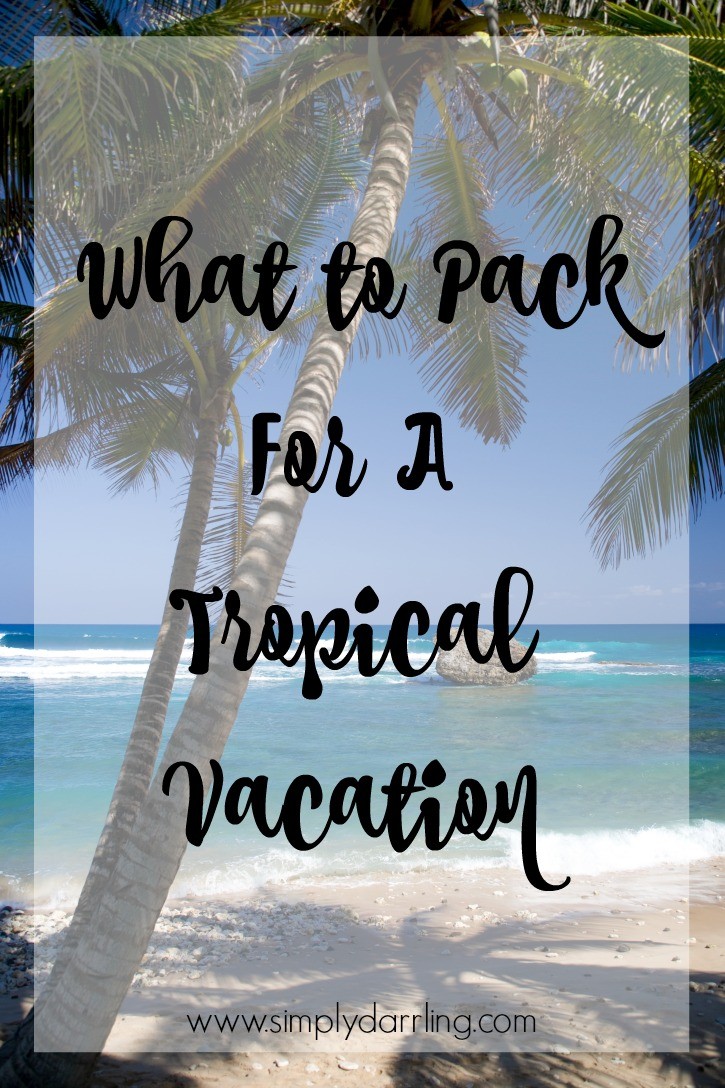 One great thing about tropical vacations is that the packing list can be short. No fancy clothes or shoes needed!
These essential items are always in my suitcase:
Swimsuit & Cover-Up – The whole point of a tropical vacation is to get in the water, so the swimsuit and cover-up is the first thing thrown into my suitcase.
Polarized Sunglasses – The beach really reflects the sunlight so I've found that this is definitely the time to make sure to have polarized sunglasses because they help block all the reflections. I also like to add a hat or make sure that I'm sitting under an umbrella.
Waterproof Camera – Bring home those snorkeling memories thanks to a waterproof camera. When Brad and I went on our honeymoon we picked up a waterproof disposable camera and discovered how quickly we could go through those 27 photos. I was so glad when I discovered this camera and could take as many photos as I wanted underwater.
Waterproof Pouch – Keep your phone secure from the sand and water with this pouch, it is also great for adding your room key and credit card so that you can throw them into your bag.
Kindle – A tropical vacation is the perfect time to catch up on some reading. I can easily go through a book a day while sitting on the beach.
Sunscreen – Have you seen how pale I am? Yeah, I need sunscreen, and lots of it.
Sea-Salt Hair Spray – I love being able to let my hair air dry when I'm on vacation. Sea Salt spray is the perfect solution because it helps my hair keep some texture and volume while it dries.
Sun Dresses – When we aren't at the beach, I love using tropical vacations as an excuse to wear cute sun dresses. They are so soft and light which is perfect for the warm air of the tropics.
Beach Bag – It is nice to have a bag to throw all these items into when heading to the beach
What are the first things in your suitcase when packing for a tropical vacation?