Choosing the Right Laptop For You
Back To School time has been upon us for a while and the deals on computers are still emerging. If you are looking for a new laptop, I've put together some tips on how to pick one that is perfect for you.  I'm not going to call out a specific model to buy because they are constantly changing. Plus in 2 years saying you only need 8 Gig or RAM will be laughed at.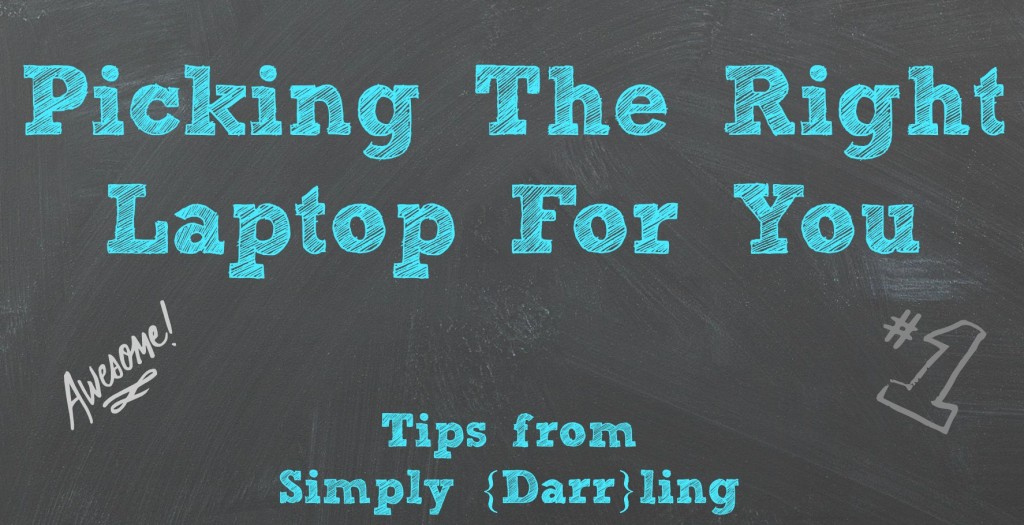 First, let's start with some technical definitions.
RAM (Random Access Memory): This is the memory that helps you do things quickly. It is the memory that keeps web pages up to date or the screen to refresh when you flip between programs.
SSD (Solid State Drive): A normal hard drive is a mechanical device which spins for the data to be read. In an SSD there is no spinning device so the information can be read much faster, plus has a smaller likelihood of failure.
4/6/9-cell Batteries: The more cells, the more power the battery can hold per charge.
Ethernet 10/100/1000: These are different speeds that the cabled network can run. The computer and the switch that it plugs into will automatically pick the fastest speed that it can. Many switches these days can run at 1Gb (aka 1000).
Connections:
HDMI (High Definition Multimedia Interface): An HDMI IN port allows your screen to display from an HD device (such as Blu-Ray player). An HDMI OUT port allows you to display your laptop onto a larger screen such as laptop or projector. This is much higher quality than standard VGA.
USB (Universal Serial Bus): You want a lot of these.  Bonus points if it is one that can drive extra current and is considered a "charging port"
Firewire: Similar to USB; generally higher-end cameras and video recorders will transfer data via this bus.
eSATA: Used for external storage devices. In most cases USB will work just as well for you.
SD: This is the slot that your memory card plugs into to transfer photos off of your camera. I consider this important because I don't want to find the cable to do it.
To pick the right system for you, think about how you are going to be using the computer. I've put together some scenarios below and what sort of system you would want.
Basic
Just need to use the laptop for internet browsing and some basic Word or Excel documents? For this type of use, just about any laptop will work. I would still pick higher RAM as some internet browsers can be memory hogs. As I type this, my internet browser is using over 500Mb and I don't have many windows open.  In this case I would suggest a standard Hard Drive over an SSD.
Mobility
Are you going to be carrying it around a lot? Then an ultrabook is probably your best bet. An ultrabook is more than just a thin, light laptop. All ultrabooks will have a SSD which means that they boot in seconds! Ultrabooks also use low-power Intel Core processors in order to increase battery life. If used for gaming, the necessary RAM and graphics capability will only be available in the higher end models.  Some Ultrabooks are considered "convertible" which means it can either behave as a laptop or a tablet. These give you the best of both worlds and also show off the best aspects of Windows 8.
The Powerhouse
If you regularly have multiple programs running at once or create large files then processing power and RAM are going to be important. The weight will most likely increase to accommodate the extra features that are included in these laptops. If given the choice between upping the RAM or upping the Hard Drive go with the RAM, extra files can always be saved on an external hard drive. The processor for this laptop will also be more important; the number of cores are important, but more is not always better if they don't work well together. For more information on Processors, Wikipedia can be a good source for comparing the differences.  I would also suggest an SSD in this case.
An Alternate Solution
If you don't need the portability of a laptop, consider a desktop. You will get more power and storage for your money, plus you can hook it up to a large monitor. The above tips still apply to desktops.
I hope these tips have been helpful for you. If you have any further questions feel free to email me!


Check Out My Amazing Sponsor: