I've teamed up with some awesome bloggers for a recipe challenge today. The theme this month was potatoes so we each came up with our own take on a potato recipe. I had this awesome idea to make my own tater tots (for those of you here in the Pacific Northwest: I love my Taco Time Mexi-Fries so I was going to try and replicate them). Well, my kitchen had a WHOLE other idea about that and they turned into an epic failure.
Now I have a bowl full of shredded potatoes and was quickly running out of daylight to take photos of my awesome-possom recipe, so I searched through my pantry for inspiration and came up with a "clear the pantry potato hash and vegetable casserole". This recipe is VERY forgiving and can easily be personalized to whatever you are in the mood for that evening.
Potato Hash & Vegetable Casserole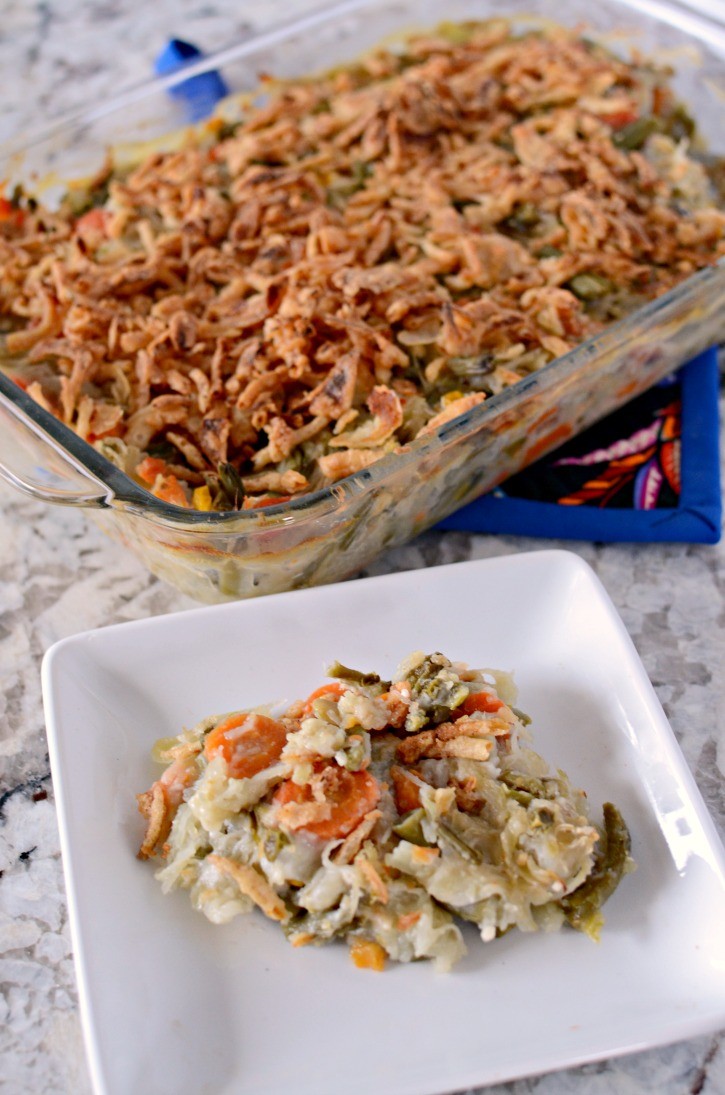 Potato Hash & Vegetable Casserole
Clear the pantry out with this super easy potato and vegetable casserole.
Ingredients
5-6 Yukon Gold Potatoes
2 Cans Green Beans
1 Can Sliced Carrots
1 Can Mixed Veggies
¼ cup flour
2 Tablespoons butter
½ cup soy milk
Onion strings
Instructions
Peel the potatoes
In a large sauce pan, cover the potatoes in water and bring to a boil for 5 minutes (or until you can easily stab it with a fork)
Shred the potatoes
Drain all the canned vegetables & mix in with the potato hash
In a small saucepan, melt the butter, whisk in the milk & flour until thickened.
Add the veggies into a greased 9x13 glass pan
Stir in the sauce
Cook at 375 for 30 minutes, or until bubbling.
Sprinkle onion strings on top and bake for 5 more minutes
I used sliced carrots, green beans, and mixed veggies in my casserole because it was what I had; but this is where the recipe is so forgiven – you can use whatever you want! If you have fresh veggies available they would be a welcome sight in here as well! I topped mine with some onion strings, because those things are pretty much required on all casseroles.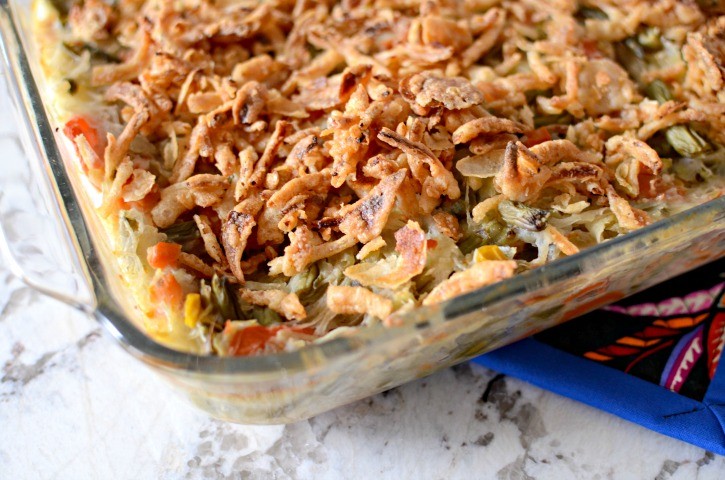 Ready to see some more awesome potato recipes? Check out the 40+ recipes that are linked below!