This post is in collaboration with CK Mondavi and Family wines. All opinions are my own. 
Summer is BBQ season, and nothing says  BBQ like a delicious burger. Brad and I are getting ready for a super fun BBQ this next week fro the 4th of July; what started as a couple friends coming over has turned into an invite list of almost 20 people! We love throwing burgers on the grill for parties like these, and I think that these burgers would be the perfect main dish for the party. Each year on the 4th of July we get together with good friends for a BBQ, I'm excited that this year we have a potential for some sunny weather.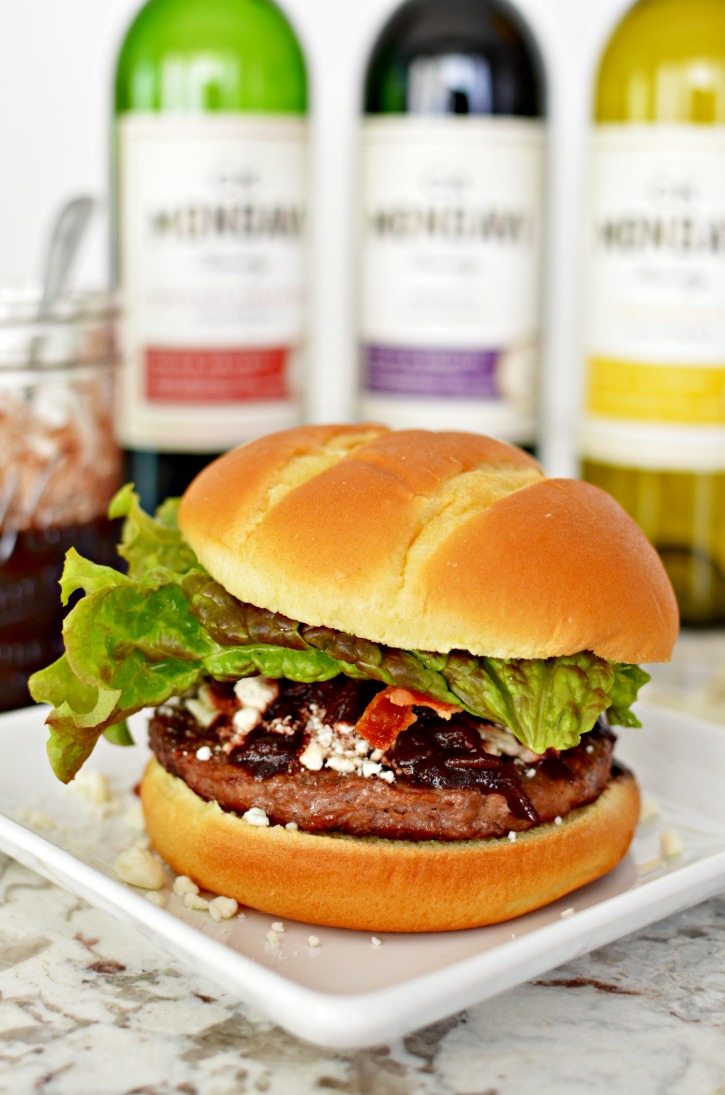 I had originally thought about making a delicious fig glaze; however, the figs in our front yard aren't quite ripe, so I decided to try something with some dried dates. These dates paired so well with the CK Mondavi and Family Cabernet Sauvignon and Balsamic Vinegar to form a delicious compote to top this burger.

Red Wine & Date Compote Burger
A delicious burger that is perfect for summer BBQs.
Ingredients
Compote
1 cup chopped dried dates
2 cups CK Mondavi And Family Cabernet Sauvignon
¼ cup Balsamic Vinegar
1 teaspoon sugar


Burger
Hamburger Bun
Burger Patty
Feta Cheese
Compote
Bacon
Lettuce
Instructions
Compote
Add chopped dates, CK Mondavi and Family wine, Balsamic Vinegar and sugar in a sauce pan over medium heat.
Stir to combine
Bring to a simmer and turn down to low
Stir until thickened


Burger
Place patty on a bun, top with desired ingredients
The CK Mondavi and Family bottles were redesigned recently which now feature flavor descriptions right on the front of the bottle (make sure to check out these new bottles in store now). The Cabernet Sauvignon description is "rich and velvety" which I thought would go perfectly into a delicious burger topping. This burger turned out absolutely delicious. The compote goes so well with the feta, and bacon is always a welcome addition to any burger.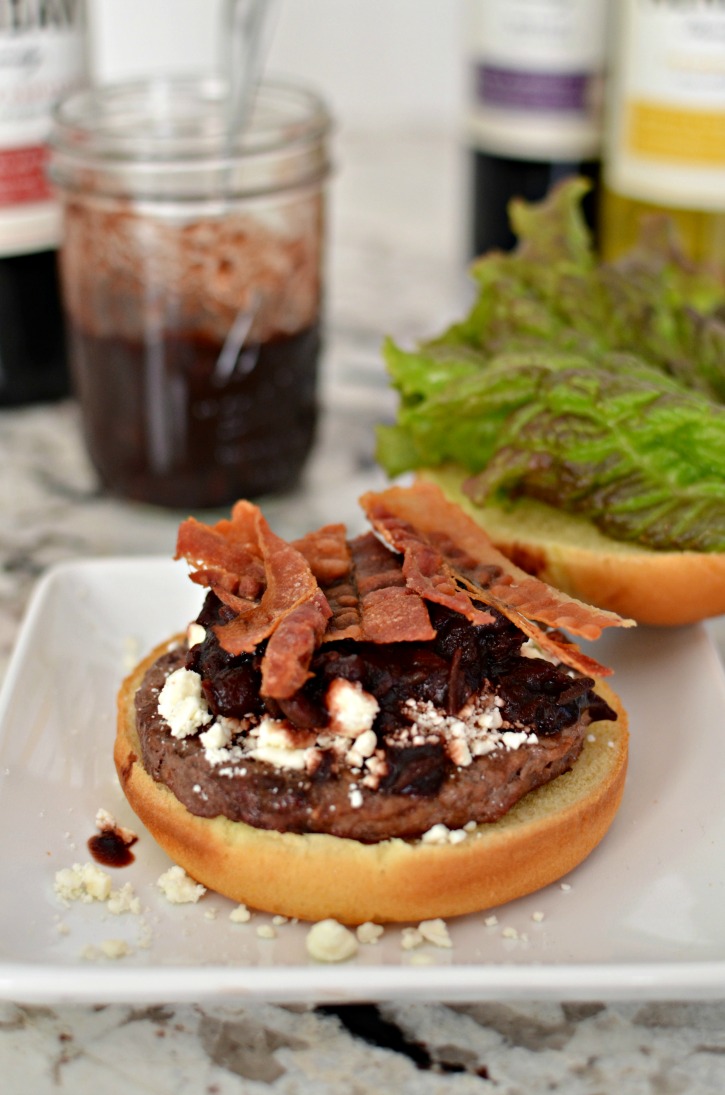 CK Mondavi and Family is now in their 4th generation of family winemaking and it has always been their dream to offer delicious wine at a low price. This summer, make sure to check out the CK Mondavi promotions for burgers, buns, cheese, and charcoal in your local grocery stores – essential items to have all summer long.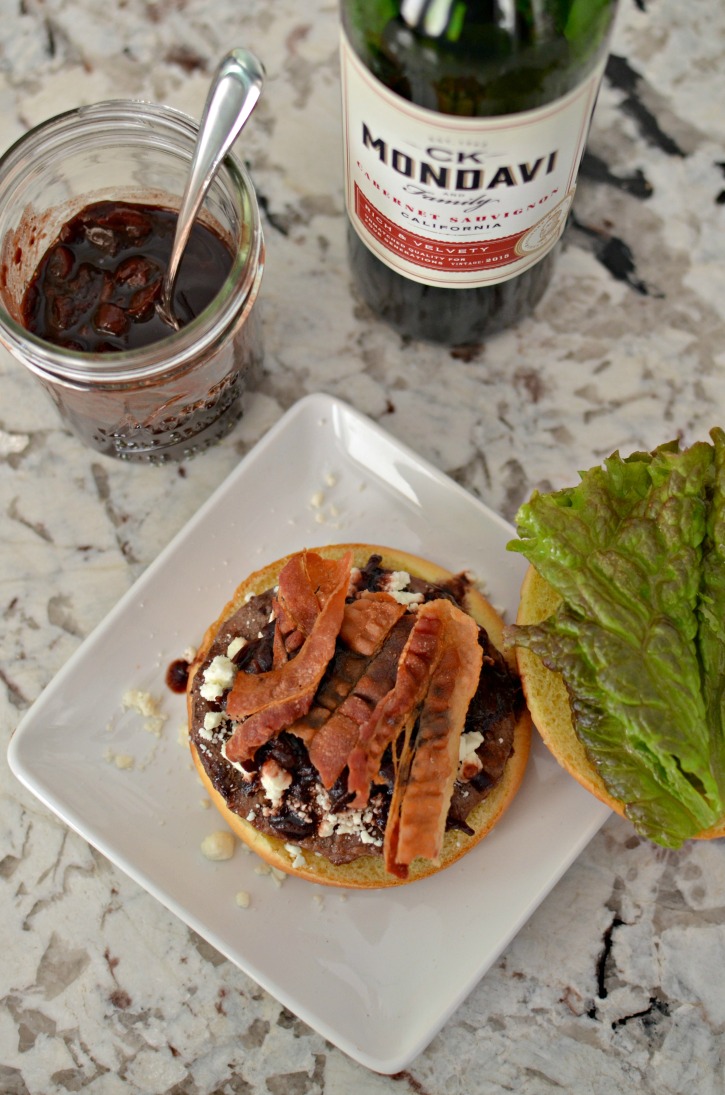 Brad and I have just about finished this jar of red wine and date compote, so I'll definitely be making another batch before our BBQ on Tuesday. In addition to using the wine in the compote, this Cabernet Sauvignon was delicious to enjoy while eating the burger. The rich flavor pairs well with the juicy and flavorful burger, and creates a delicious dinner.
Do you have a favorite way to enjoy your burger? Make sure to learn more about CK Mondavi and Family on Facebook, Twitter, Instagram, Pinterest, and Youtube!