While planning our trip to Orlando, Renee had the idea to book a day at Discovery Cove. Brad and I had looked at visiting on previous trips to Orlando, but for one reason or another, it had never worked out. I was definitely excited to experience the park, especially the Grand Reef.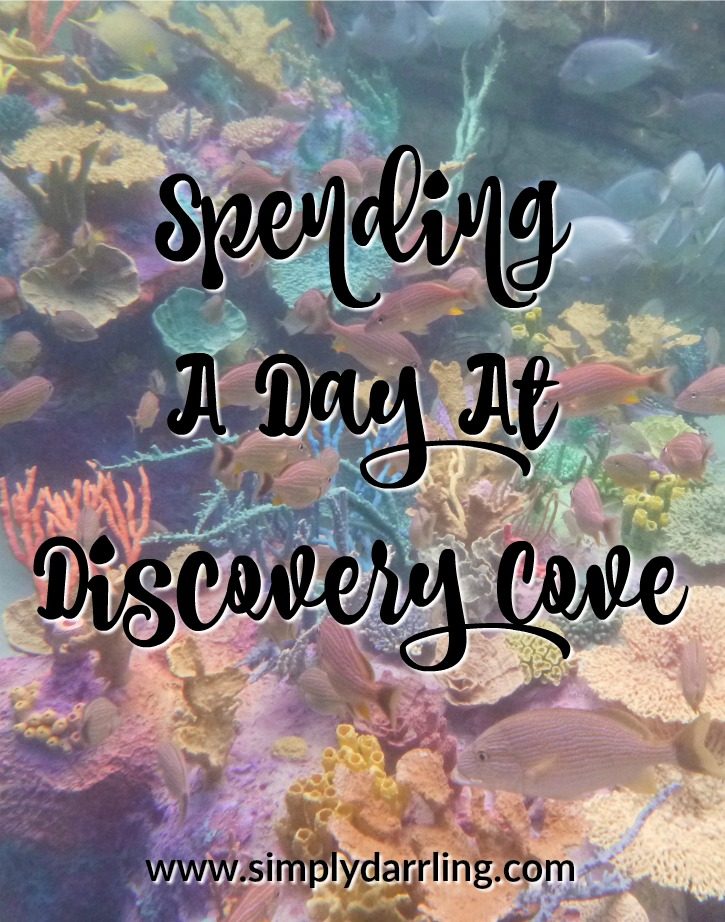 For a variety of reasons we opted to simply do a Day Resort package (but will return again to do a day with a Dolphin Swim). Discovery Cove is limited to roughly 1300 people each day so reservations are definitely needed. We had originally planned on being there Sunday; however, with a high of 55* we were glad when we were able to move our reservation to the next day to get a few degrees warmer. I forgot to ask the workers if the day we were there was sold out, but we never felt crowded during our day at the park.
The park opens for registration and breakfast at 7:15, however, the actual experiences don't open until 9am. After we checked in and had some breakfast we headed down to the lockers and picked up our wetsuit and snorkeling gear. Discovery Cove offers multiple lengths of wetsuits (short sleeve/shorts, long sleeve/long pants, or simply a vest). Since it was so cold, Renee and I were very glad to have the full length wetsuit. During the summer, we definitely would opt for the vest, but we wanted a bit more warmth for this visit.
Once we got situated in our wetsuits (um, first of all, the only thing worse than getting into a wetsuit is getting back into a wetsuit when it is damp), we headed to the bird sanctuary to feed the birds.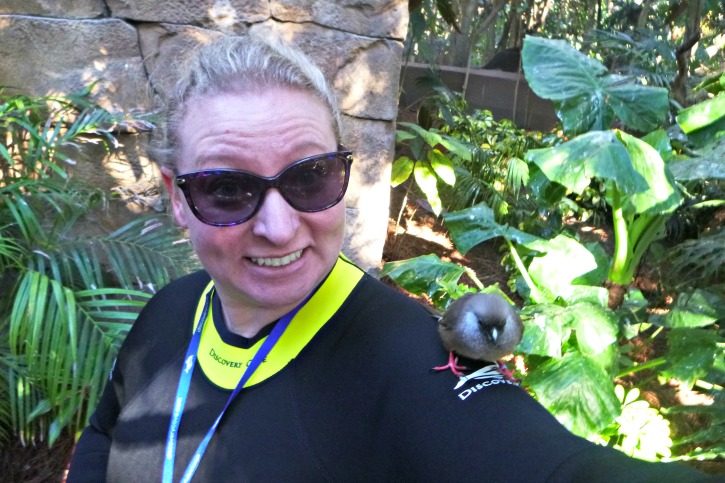 While we were hanging out in the 85* Freshwater Oasis, we saw that one of the trainers had brought out a sloth. It was fun to see it up close!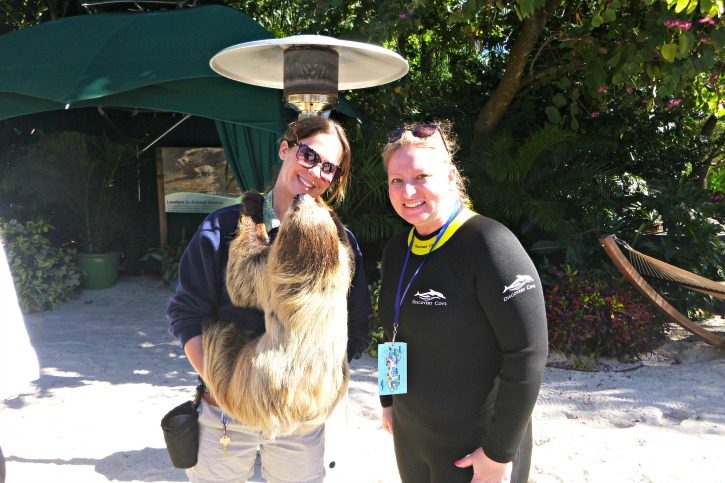 The Freshwater Oasis was so nice and toasty (it was hard getting out of the water). We went through the lazy river a few times (it takes about 15-20 minutes to do the whole loop). There were also Sea Otters and Monkeys that we could check out while hanging out in the Freshwater Oasis.
After lunch, we headed to the saltwater side to do some snorkeling. As I started to wade into the water, I was surprised to see a sting ray just hanging out right in front of me. This wasn't a small sting ray either – it was a good 4-5′ wide! At this point I realized that I probably should quit walking and just start swimming to see what else was around. There were SOOOO many awesome fish, and it was a lot of fun having the sting rays swim right at me.
I took a lot of photos with my underwater camera, but figured that this video would show off the experience best.
Had the weather been warmer, I definitely could have seen us being there from open all the way until close, especially hanging out in the Grand Reef and checking out all of the sea creatures.
A ticket to Discovery Cove includes breakfast, lunch, snacks, and lots of fun activities. They had strollers and wheelchairs available with big sand tires which was great for Jaxson to hang out in throughout the day (especially at nap time). You also get a 14 day ticket to visit SeaWorld or Aquatica which is awesome. I definitely recommend it if you are going to be visiting the Orlando area.