Raise your hand if you could use a spa day. After spending the past 3 months at home I definitely could. Despite things starting to open back up, it will probably be quite a while before I get a chance to spend the day at a spa.
Some of these items I already have in my bathroom, and others are ideas of small touches to make it a bit more "spa-like". Check out these ideas to turn your own bathroom into a spa retreat.
Massaging Shower head – A new shower head can make all the difference when it comes to your shower routine. I especially love having a shower head that includes a handheld portion too (mostly for cleaning the shower, but that isn't really a spa-like activity).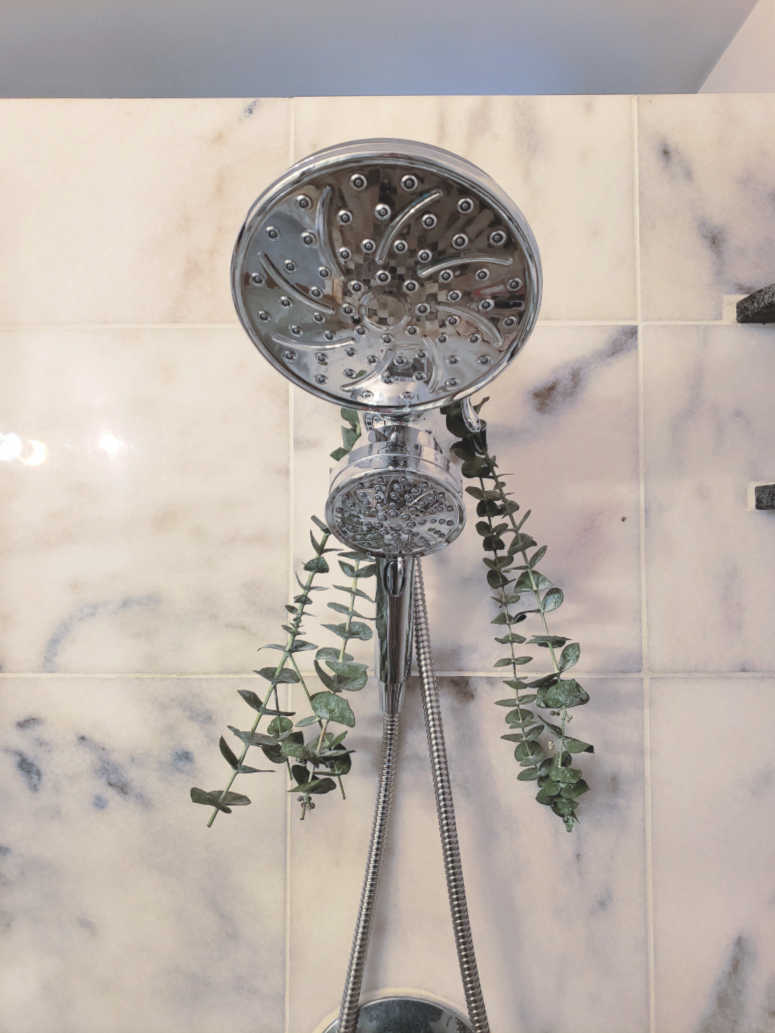 Fresh Eucalyptus – I picked up a few stems of fresh eucalyptus at Trader Joes for $2.99 and simply hung it from the shower head. If you want to be fancy, you could tie it together with some twine, but I simply used the rubber band that was already there.
I can smell the Eucalyptus each time I walk into the bathroom, and the steam really enhances the smell. The majority of the scent wears off after the first week, but it is easy to replace with a quick trip to the store.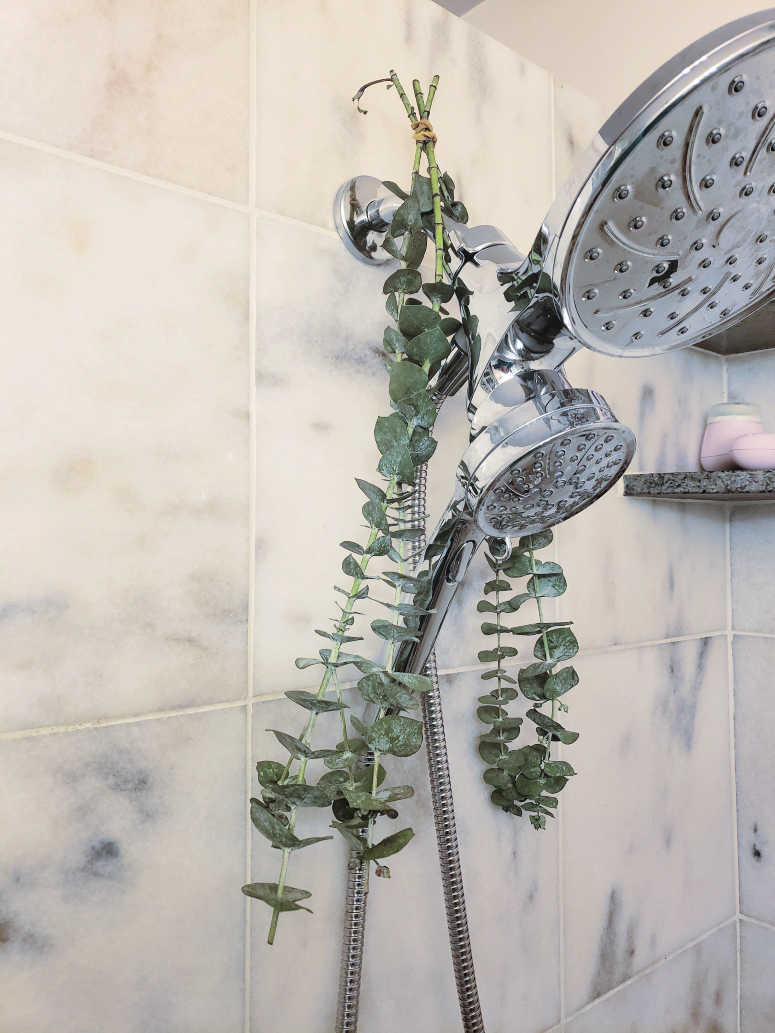 Plush Towels – One of my secrets to the perfect bathroom towel is the "bath sheet". It is larger than a normal bath towel and immediately feels extra luxurious because of it's size. Getting extra plush towels are also a great way to add to the spa-like atmosphere in your bathroom. A few years ago, I purchased hydrocotton towels from Nordstrom (similar) and they are still going strong!
Towel Warmer – One of the first things I bought for our bathroom last year was a towel warmer. In addition to providing us with toasty towels as we get out of the shower, towel warmers serve a practical purpose as well. By quickly drying the towel with the heat, bacteria doesn't have the time to grow in the moisture of the towel.
The towel warmers we bought have a built in timer, but there is also a switch that allows you to use a timer to turn it on/off. I'm thinking of trying out this feature because it would be pretty nice to have the towel even more pre-heated before I get in the shower.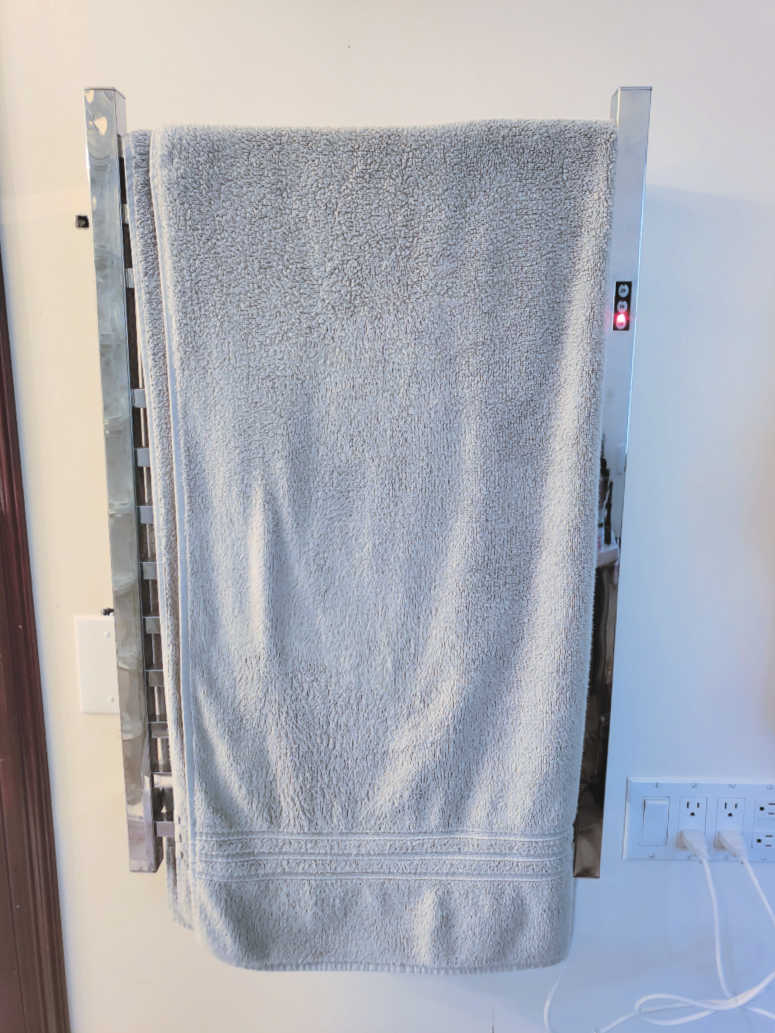 Plush Robe – Despite owning a few over the years, I've never really been a robe person, except when I'm at the spa. A robe is a great way to sit and enjoy the moment while wrapped up in the ultimate cozy outfit.
Bath Products – Break out the fancy stuff for a little spa day. Exfoliate all the places and follow up with a luxurious moisturizer. This is a great time to use the beauty samples from online or in-store purchases.
Mask Fridge – Brad rolled his eyes a bit when he saw this item show up on our doorstep last year, but I kinda love it. I have a variety of face masks that I alternate through so I keep the extras in this fridge.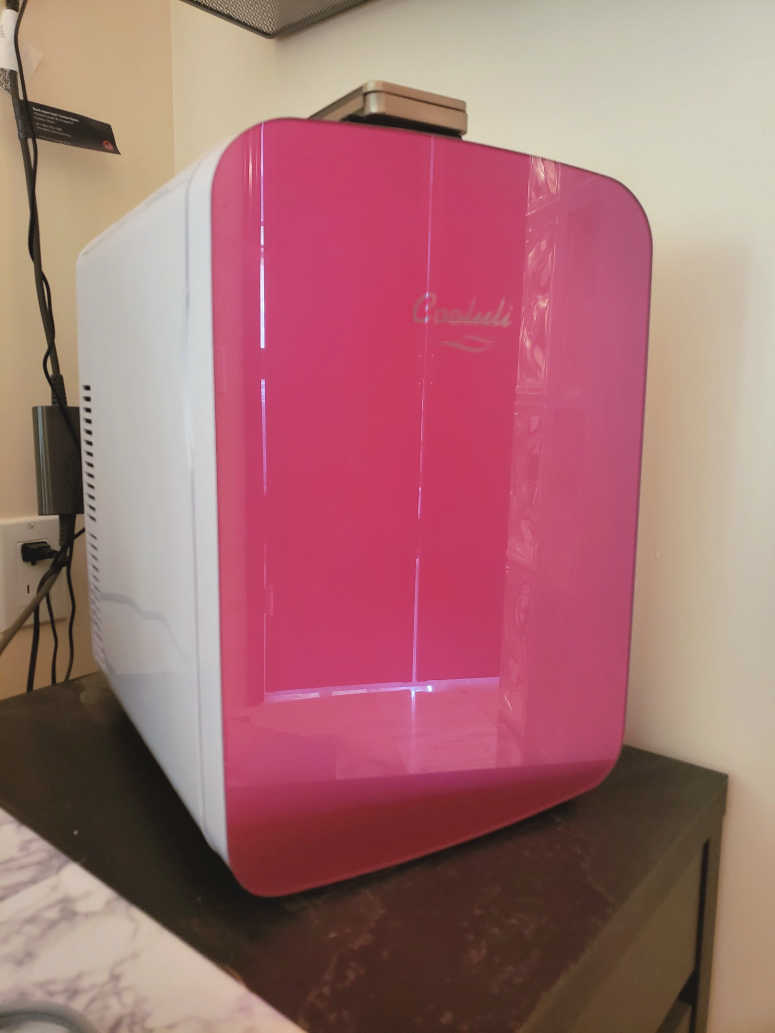 Glass Storage Jars – Apothecary jars are an elegant way to store everyday items such as Q-tips and cotton balls. I use different glass jars throughout my bathroom to hold various products such as makeup brushes, bath bombs, and sugar scrubs.
Hopefully we will be able to safely head back out to the spa soon, but in the mean time, these items are the perfect way to turn your bathroom into a little spa paradise.