Our day at Magic Kingdom started bright and early with the Early Morning Magic, and we stayed all the way til the park closed after the Happily Ever After fireworks show. Brad and I were meeting up with Cris from Kiss My Tulle (and her family) to watch the Fireworks, and we decided to make an event of it by booking the Tomorrowland Terrace Dessert Party. Sorry for the pixilated photos in this post, it was a bit dark in Tomorrowland Terrace.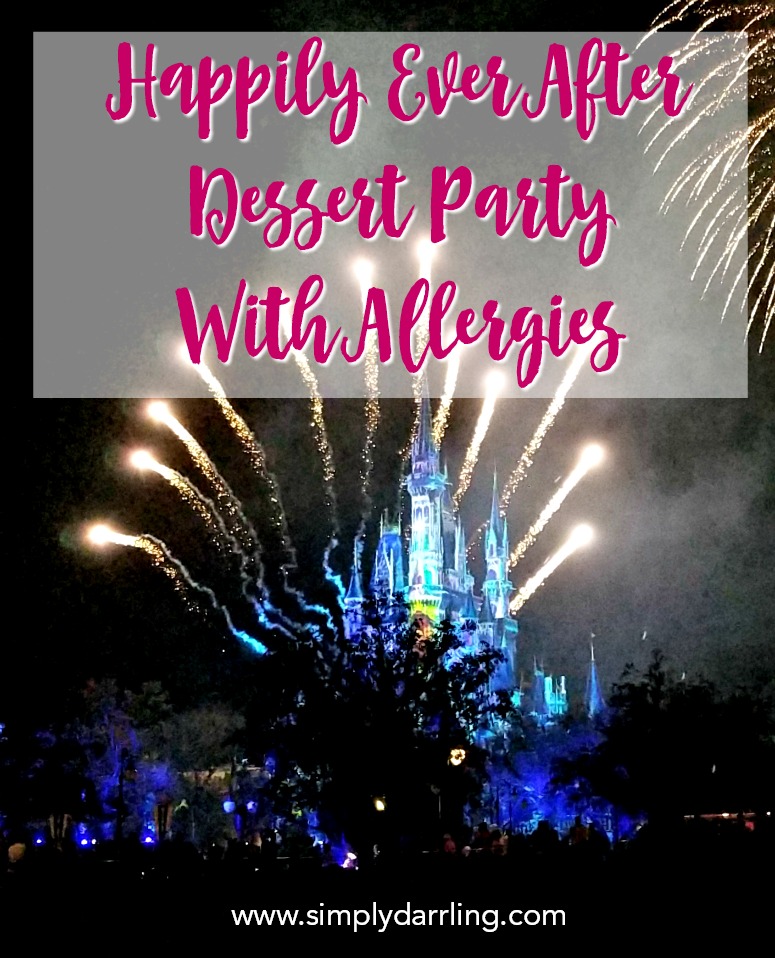 When I booked the dessert party, I forgot to mark Brad's allergies in the reservation; looking back, I should have called to see if they could edit the reservation because I wasn't able to do it online. When we checked in, I gave them Brad's allergy information and one of the cast members came over to learn more about his allergies. Brad is a bit unique in the fact that he can't have cocoa flavor in addition to dairy or peanuts, so the standard nut-free/vegan plates that they had made up for allergy folks wouldn't work for him because 90% of the items were still chocolate flavored.
In true Disney fashion, they were able to put together a plate together for Brad so that he could enjoy some deliciousness as well. Most of his plate was chopped fruit, but they presented it in such a way that made it look fancier, plus he said the doughnut was pretty tasty.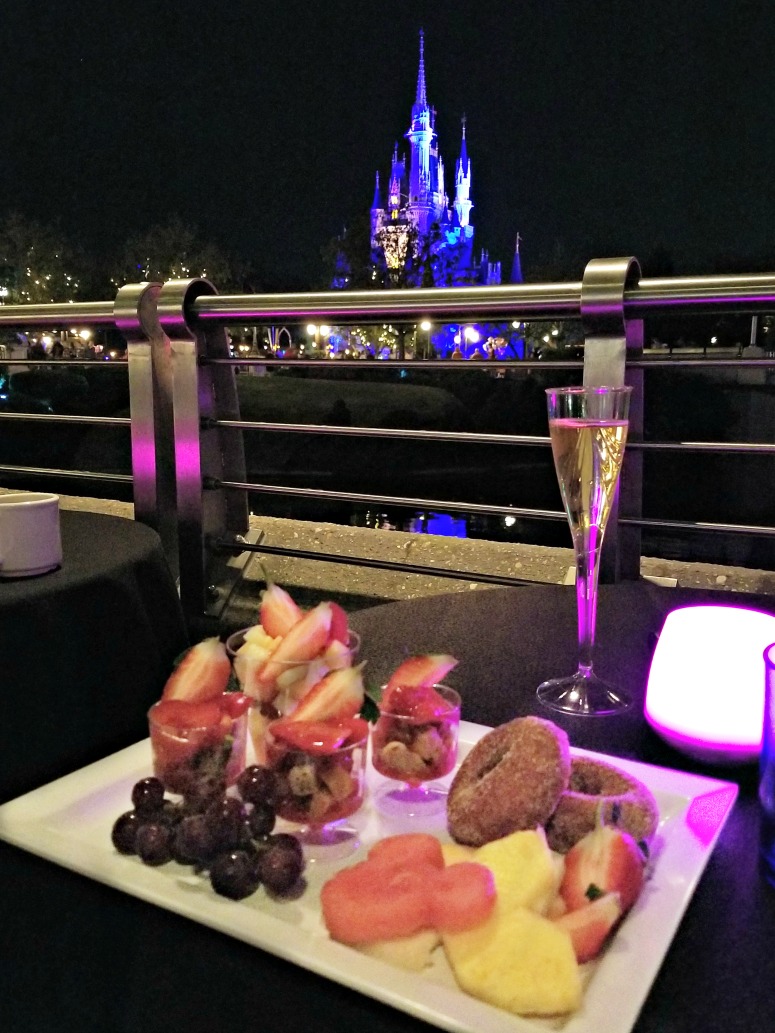 For those of us who could enjoy dairy, the Tomorrowland Terrace dessert party was full of delicious treats. Many of them were chocolate flavored, and creamy, but they were definitely yummy. They also had a DIY Ice Cream Sundae bar that was fun to put together.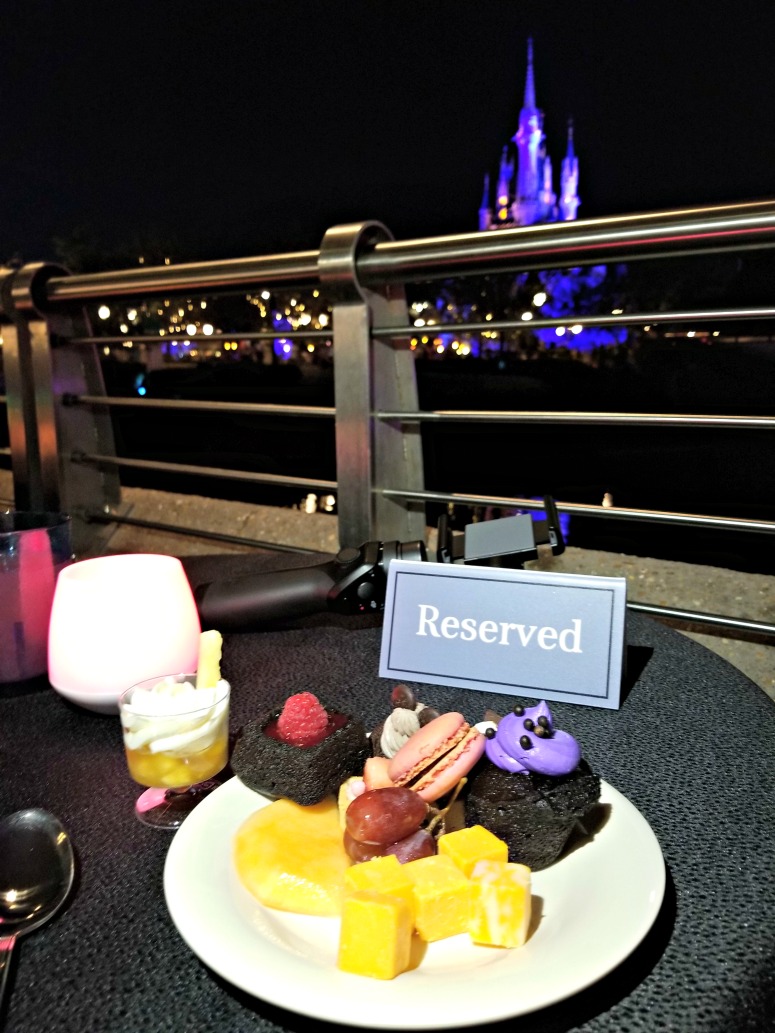 The chocolate covered strawberries in the dessert buffet were even branded with the logo for the fireworks show.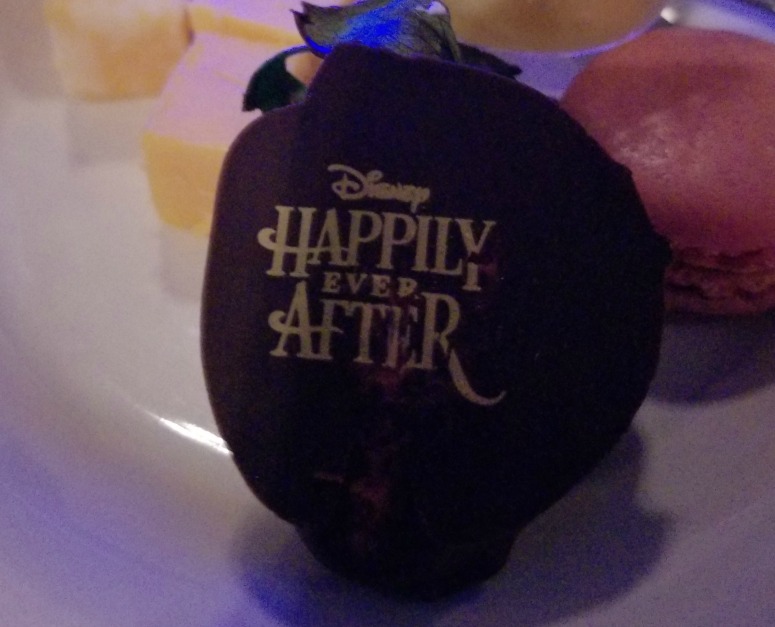 While we were enjoying the dessert party (before the fireworks began) there was a photographer going around taking photos. I used this as a chance to get one final Magic Maker photo of the day.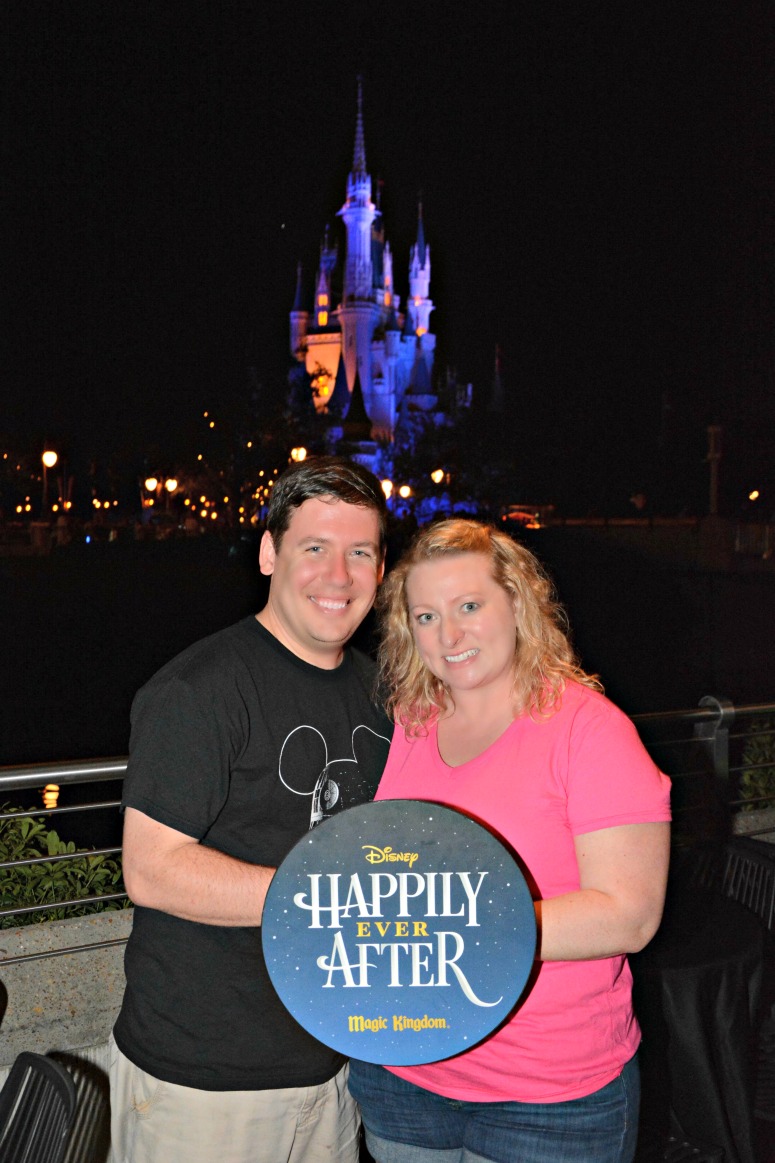 As for the actual view of the fireworks, you can see that we were to the side of the castle. Side note, when is Disney going to develop the technology to lower trees during fireworks/light shows and then bring them back up afterwards? There is another dessert party option where the reserved seating is more straight on; however, this requires you to get your desserts to go and then head down to claim your seats. With the Tomorroland Terrace option, we had a reserved seat and didn't have to worry about somebody else getting our spot throughout the evening.
Even though we were a group of 6, we booked as two reservations; Brad & Me, and then Cris & her family. This actually worked out well for us because the tables along the railing are 2-tops and 4-tops. We checked in early and were able to get a 2-top and 4-top table right next to each other. If we had tried to be a single party of 6, we would have ended up at a larger table that wasn't right at the railing.
If you have read a few of my other posts, you'll notice the theme of not wanting to waste time waiting in line for special events (such as 7 Dwarfs Mine Train or River of Lights at Animal Kingdom). This dessert party was another great option and I would definitely do it again; however, next time I'll definitely remember to put in Brad's allergies when I make the reservations.