I'm participating in the Spiked challenge with The Frugal Foodie Mama. This month the spirit of choice was Rum and I was actually a bit excited for it.
If you follow me on Instagram, you might remember this post when I discovered Trader Joes has their own Rum:

I immediately knew how I was going to use this rum in the Spiked challenge – Pineapple Upside Down Rum Cake (or something similar). Brad and I were first introduced to rum cake on our honeymoon. I've made it myself a few times since I can really only get this in the Caribbean.
For this challenge, I wanted to do something similar to Pineapple Upside Down Cake, but with a few modifications. What I ended up with is more like a bar than a cake but still quite delicious.
Pineapple Mixed Up Rum Bar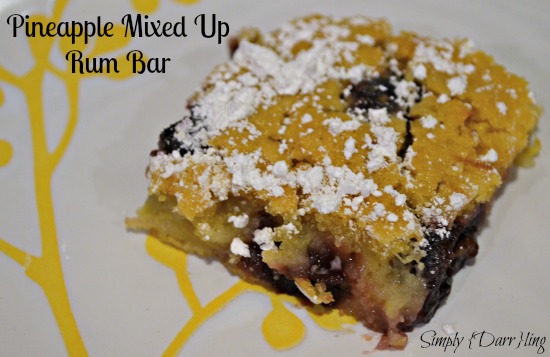 Pineapple Mixed Up Rum Bar
Pineapple, Rum & Happiness! This dessert is sure to please.
Ingredients
1½ cup flour
¾ cup sugar
2 teaspoon baking powder
¼ cup vegetable oil
1 can crushed pineapple (drained)
¾ cup rum
1 Tablespoon vanilla extract
1 egg
¾ cup Rum Cherries
Instructions
Preheat the oven to 350 degrees
Add dry ingredients into the mixing bowl
Mix in the pineapple, oil, rum, extract and egg
Gently stir in the rum cherries
Grease a 9x13 pan
Pour the batter into the greased pan
Bake for 30 minutes or until a toothpick comes out clean
Sprinkle with Powdered Sugar (optional)
Brad and I were both huge fans of this dessert bar. It would be great to enjoy year round as we dream of being on a tropical vacation.